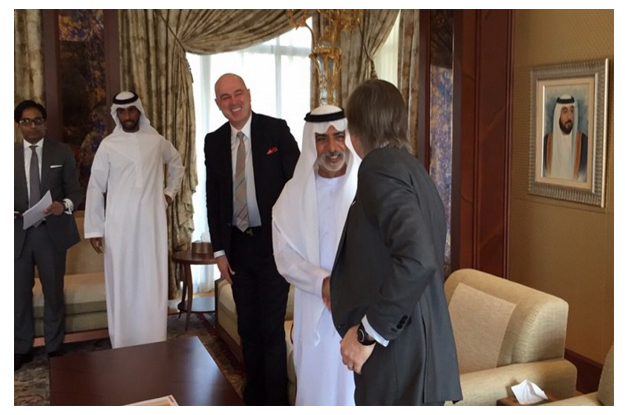 ---
KARACHI:



In a much anticipated development, European telecom giant VimpelCom on Thursday announced 100% acquisition of Warid Telecom, the Pakistani subsidiary of Abu Dhabi Group, which had been looking to exit the market since the latter half of 2012.




The transaction, the first ever acquisition in the country's telecom sector, will take the combined subscriber base of the merged entity to 45 million or 37% of the country's telecom market, which stands at 121 million subscribers as of September, 2015.

Though none of the parties disclosed the transaction amount, the Amsterdam-based parent of Mobilink has agreed to offer 15% shares (of Mobilink) to the Dhabi Group. The transaction is expected to close within six months subject to approvals from regulatory authorities in Pakistan, the press release said.

"This is yet another important step in our journey to improve our competitive position in our operating markets," VimpelCom's Chief Executive Officer Jean-Yves Charlier said in the press release.

The combined revenue of both companies, as of September 2015, was $1.4 billion, the press release said. The transaction is expected to create capital and operational expenditures synergies with a net present value of approximately $500 million.

"Both parties bring their unique strengths to this merger. Warid, with its strong post-paid base and high quality LTE network will complement Mobilink's position in the market," Chairman of Dhabi Group, Sheikh Nahyan Mubarak Al Nahyan said.

As a result of this transaction, the customers of Mobilink will be able to use long term evolution (LTE) or 4G services of Warid. Similarly, Warid subscribers will be able to use 3G services offered by Mobilink.

Launched in 2005, Warid expanded its network to almost 18 million by FY09. Though it made a strong footprint in the urban centres, the company failed to expand to rural areas and lost over 5 million users by the end of FY13.

Amidst declining customer base and decreasing revenues, the company started consolidating its position so it could exit the market. In January, 2013, the company allowed Singapore Telecommunication, 30% partner, to offload its entire stake.

Though Warid sustained its user base to over 12 million until 2013, the group still wanted to exit the country. VimpelCom, Etisalat and China Mobile showed interest in Warid's acquisition but the transaction never took place.

Warid also distanced itself from the 2014 spectrum auction. Though expected, the decision led to speculations that it would be dead post-auction. On the contrary, Warid took everyone by surprise and jumped from its GSMA network to LTE network.

Warid Telecom enjoys the industry's largest post-paid user base and boasts the highest average revenue per user (ARPU) at around Rs260 per month, well over the industry average (Rs199 as of June 2014) -  courtesy its loyal corporate clientele that alone boasts an ARPU of Rs1,400 per month, according to sources.

The acquisition announcement did not disclose whether the merged entity will operate under a new name. It, however, said that its board will consist of seven directors, six from VimpelCom and one from the Dhabi Group.

After completion of the transaction, Mobilink's CEO Jeffrey Hedberg will become the CEO of the combined business and Mobilink's CFO Andrew Kemp will become the CFO of the combined function.

Analysis

While it became official on Thursday, Warid's acquisition was always on the cards, according to industry analysts who believed that five operators for a market like Pakistan were 'just too many'.

The country's leading technology blogs had been anticipating Warid's exit from the market since 2012. The company, however, survived because of its strengths.

Now that the smallest operator has been acquired by the market leader, it certainly will have some impact on the country's telecom market.

Acknowledging mergers and acquisitions happen everywhere and generally benefit consumers, an official, who did not wish to be quoted, said the case under discussion will have to be seen in the local context.

Besides reducing consumers' choice, the transaction will also put smaller players such as Ufone under pressure, the official said. Explaining, he said the large player can reduce prices to get rid of small players and then increase it to benefit in the long run.

Small players are already under pressure because of high taxation and need to be protected, he said. He, however, added that Mobilink can be declared a significant market player, which will ensure smaller players are protected from price wars.

Amid fear: No threat to jobs, says Warid CEO




In a press briefing, Mobilink CEO Jeffery Hedberg said that the transaction will take Pakistan's telecom industry into a new era. "The merger will help government's strategic initiatives around bridging the digital divide gap by ensuring financial inclusion and enabling the digital capabilities." However, he added that until appropriate approvals from CCP and other entities have been obtained, the business of both companies will go as usual and they will continue to compete with each other.




Warid Telecom CEO Muneer Farooqui said, "Our shareholders are very much committed with Pakistan. We don't plan to sell off our investment from Pakistan as we are one of the largest investors of this country."

Talking about job security, he said that Warid has over 1,000 full time employees and there is no threat to their jobs after the merger.

Meanwhile, Hedberg said that both companies have around 700 franchises and they have an ambitious strategy to grow their monobrand stores. "This will be driven by the customer's choice and those franchises that deliver the best will be part of our growth strategy. If there is no delivery from franchises than we need to think about consolidation."

Published in The Express Tribune, November 27th,  2015.

Like Business on Facebook, follow @TribuneBiz on Twitter to stay informed and join in the conversation.