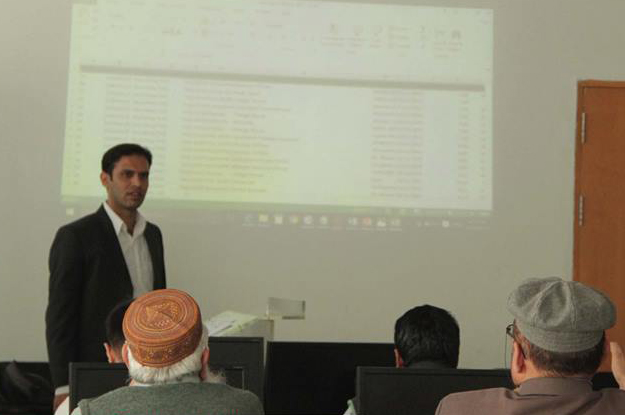 ---
LAHORE:



"One of our technological interventions in hospitals across the province is Biometric Attendance System that ensures presence of paramedics, doctors and support staff at healthcare units," Punjab Information Technology Board (PITB) Chairman Umar Saif said on Thursday.




He was speaking at a training programme for health workers being organised at the PITB. The session aims at implementing biometric attendance and monitoring system at public hospitals across the province.

"It is heartening to see that the Health Department and district administrations are taking notice of regular offenders [absentees]," Saif said.

Participants from 36 district headquarters hospitals (DHQs) and 31 tehsil headquarters hospitals (THQs) are attending the session that started on Tuesday and would end on Saturday. The training is a refresher course for hospital focal persons, medical superintendents (MS) and representatives of the EDOs.

PITB E-Government Joint Director Saflain Haider said that 14,000 health officials were registered in the system. On average 7,000 officials mark their attendance a day, he said. Haider said that the programme would be expanded to rural health centres by January of 2016.

Haider said the PITB had also set-up a helpline to guide health officials facing problems while using the system. The board has divided the province into six zones to provide on-site help to deal with the malfunction of devices.

He said the most frequent complaint of the public was related to non-availability of medical staff at hospitals. "To address the problem, a biometric attendance system has been introduced. To date, 780 devices have been installed at 138 hospitals," he said.

Haider said the training session were arranged in every district on alternative months. He said a training session for health officials from Lahore and Dera Ghazi Khan was held on Tuesday. Officials from Multan and Faisalabad were trained on Wednesday. Health officials from Rawalpindi, Gujranwala, Sargodha and Sahiwal were given training on Thursday, Friday and Saturday, respectively.

Haider said that it was a real-time system that sent information to DCOs, the health secretary and medical superintendents through SMS texts. "The attendance record of medical superintendents is also sent to the DCOs, the health secretary and the chief minister's monitoring team."

He said the goal was to increase the attendance of health officials all hospitals and health centres to 80 per cent.

Asked if they had achieved any results, Haider said the Health Department and medical superintendents at various hospitals had sought explanation from the absentees.

Published in The Express Tribune, November 27th, 2015.