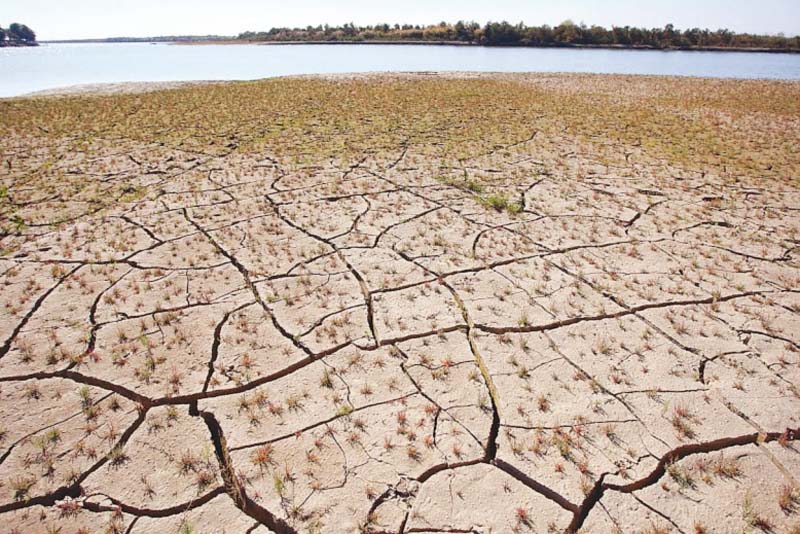 ---
The Intended Nationally Determined Contribution (INDC) document Pakistan has submitted ahead of the UN Climate Change Conference in Paris is the shortest one by any country — just one page (350 words). This is even more alarming when one considers how this year has proved to be an unusual one for Pakistan due to unpredictable weather events. A mini-cyclone in Peshawar killed 44 people, heat waves in Karachi killed more than 1,500 people, cloudbursts in various areas of Gilgit-Baltistan affected 35,717 people, while floods across the country killed 238 and affected more than 1.5 million people.




Kakekhel is not the only one dissatisfied with Pakistan's INDC document. In fact, many climate experts and environmentalists are criticising the government for failing to submit the INDC in its prescribed format."While it does mention Pakistan's commitment to the cause of climate stability, it does not mention the efforts that have been made on both mitigation and adaptation," said Shafqat Kakakhel, former ambassador and chairperson of the board of governors at Sustainable Development Policy Institute (SDPI). He was speaking at a media training workshop organised by a German political non-profit organisation in Islamabad last month.

Countries across the world have submitted their promises in the form of INDCs to the United Nations (UN), stating their commitment to reduce greenhouse gas emissions (GHG). Pakistan, on the other hand, did not even submit them by the given date. Instead, it did so at a later date and reaffirmed its lack of commitment, an immense diplomatic embarrassment.

Kakakhel, who also served as the deputy executive director of the UN Environment Programme (UNEP) and had the honour of being a UN Assistant Secretary General, referred to the zero draft prepared by the Ministry of Climate Change (MoCC). A far more comprehensive document, the draft needs vigorous editing to remove redundancy.




He also highlighted some errors in the INDC. "The 350-word document contains several incorrect references such as our policies on agriculture, energy and water resources. Unfortunately, Pakistan has not formulated policies on all these vital topics."That draft also suffered from some omissions such as adverse health impacts and Pakistan's perspective on loss and damage. "The new document does not list Pakistan's needs regarding mitigation, adaptation, technology development and transfer and capacity building unlike the INDC documents submitted by all other developing countries," added Kakakhel.

Kakakhel urged that at the Paris conference, Pakistan should contribute to the efforts made by other developing countries. This can ensure that the outcome of the meeting serves the twin objectives — climate stability and support to developing countries to adapt to the negative effects of climate change, and pursue low carbon development policies.




The INDCs were an opportunity to highlight the challenges Pakistan faces in the form of the war on terror and adverse climatic conditions. It could have referred the challenges with regard to the vulnerability of Pakistan, which is not mentioned and could have helped Pakistan's delegation highlight the case effectively.

Bilal Anwar, the global head for Climate Change Services, Michigan, US, and a researcher, was part of the team which drafted the INDC. He had a unique story to tell at the workshop. "All of us including the MoCC worked hard preparing the INDC document, in compliance with our international commitment. However, the document prepared by us and the one submitted to the United Nations Climate Change Secretariat are entirely different."

Highlighting the importance of INDC document for Pakistan, Anwar said, "Through our INDC, we could have demonstrated a commitment to reduce our carbon emissions in line with our intended and projected economic growth. This can be achieved by adopting low emissions developmental strategies, which are subject to the provision of required financial and technical assistance by the international community. Unfortunately, by submitting these INDCs, we are not at a stage of controlling the damage at international negotiations."

When asked about securing funds from the Green Climate Fund (GCF), a fund within the framework of the United National Framework Convention on Climate Change (UNFCCC) set up as a mechanism to assist developing countries in adapting and mitigating climate change, Anwar had much to say. "We don't have the capacity to scoop funds from the GCF as we don't have the capacity to design and implement climate adaptation and mitigation projects. We stand nowhere. Most unfortunate is the fact that in case future mitigation funding in Paris is tied with identified mitigation actions by the countries, Pakistan will lose its moral and probably legal claim to 50% of GCF funding specifically allocated for mitigation."




A climate affected countryAsked whether there is any room for improvement now that the INDCs have been submitted, Anwar said, "It was important to highlight to the global community that in the case of Pakistan, it is important to have access to the required level of funding before our new energy systems and future infrastructure developments are focused on 'dirty' fossil fuel technologies."

Pakistan's carbon emissions are less than 1% in the global arena, but the country is highly vulnerable to the impact of climate change in the form of glacial lake outburst floods (GLOF), cloud bursts, flash floods, droughts, heatwaves, sea intrusion, storms and cyclones.

According to a German think-tank, Germanwatch Global Climate Risk Index 2015, Pakistan is ranked among the top 10 countries most affected by the impacts of climate change between 1994-2013. Pakistan was identified as the third most affected country, after Haiti and the Philippines in 2012. According to Germanwatch, Pakistan suffered losses of more than $6 billion in 2012 alone, equivalent to one per cent of the GDP, and a death toll of 662 people.




The loss and damage mechanism 

Pakistan's climate vulnerability is further highlighted by the figures provided by the Ministry of Climate Change, which confirm that 22.8% of the country's area and 50% of its population are at risk due to the impact of climate change. The Planning Commission of Pakistan has acknowledged that from 2010-2014 Pakistan suffered economic damages of over $25 billion due to floods and needs over $26 billion to restore these damages.

There's a dire need to fully and more aggressively engage in evolving the mechanism of loss and damage. As per the mechanism, Pakistan should be appropriately compensated for what it is bearing in the form of annual floods, GLOFs, cloud bursts, cyclones, sea intrusion and losses in agricultural productivity, as it is not a contributor to climate change.

International Union for Conservation of Nature (IUCN) Vice President Malik Amin Aslam criticised the government for missing the important deadline of submitting the INDC in the first place and, secondly, coming forward with a meaningless one-page document.

"It is an extremely generalised and overly simplistic submission, which really sends a message of poor preparedness and non-seriousness towards the issue. We are economically drained of $6 billion to $14 billion annually due to the impacts of climate change. The INDC casually terms this forced adaptation as an opportunity for investment," said Malik Amin.




Aslam, who is the chair of the Green Growth Initiative in Khyber-Pakhtunkhwa and also a lead member of the Pakistan's negotiating team on climate change, further referred to K-P government's 'Zero Carbon' growth strategy based on hydel and renewable power development and investments in enhancing forest sequestration. He urged the federal government and other provinces to follow suit in order to adapt and mitigate the impacts of climate change.Aslam further said, "Keeping in view the INDC we have submitted, it will become increasingly difficult to compete with other countries for funds from the GCF, especially when others have very well-researched and focused INDC."

Glaciologist Dr Dominique Raynaud said international support and solidarity can help Pakistan solve the crisis. "Pakistan's scenario is comparatively different from other countries, because it is part of the nations emitting a small amount of GHGs but highly vulnerable to climate disruption. Therefore, Pakistan has to adapt to this disruption and mitigate the effects for which it is not even responsible," said Raynaud, who is a member of the Intergovernmental Panel on Climate Change.

A lost war?

Pakistan's economy is losing billions of dollars from climatic events, but only Rs39.75 million was allocated for the Ministry of Climate Change in the 2015-16 budget.




Pakistan has a history of missing opportunities and this might be one of them. Experts say it's a lost war but maybe it is time to embrace it and live up to its expectations. Although the present situation of Pakistan places it on a weaker position, there's a dire need to be better prepared in order to adapt and mitigate climate change.The Ministry of Climate Change has finally gotten a minister now that Zahid Hamid has taken charge. Experts question whether Hamid will lead the Pakistani delegation at COP21. If so, does he have any sound understanding of Pakistan's climate vulnerability case and, most importantly, will he be able to effectively communicate this to the world so that Pakistan can secure some funds for adaptation? These are some questions that are yet to be answered.

However, if our leaders fail to present Pakistan's case rightfully, it will be an injustice to the mountain communities who are witnessing frequent GLOFs, cloudbursts and landslides; to the creek communities who are facing a rise in sea level, storms, cyclones and sea intrusion; and especially to the farmers of Sindh and Punjab who are witnessing a decline in agricultural productivity. It's time to act before it's too late.

Syed Muhammad Abubakar is an international award-winning environmental writer with an interest in climate change, deforestation, food security and sustainable development. He tweets

@SyedMAbubakar

Published in The Express Tribune, Sunday Magazine, November 29th, 2015.
COMMENTS (2)
Comments are moderated and generally will be posted if they are on-topic and not abusive.
For more information, please see our Comments FAQ