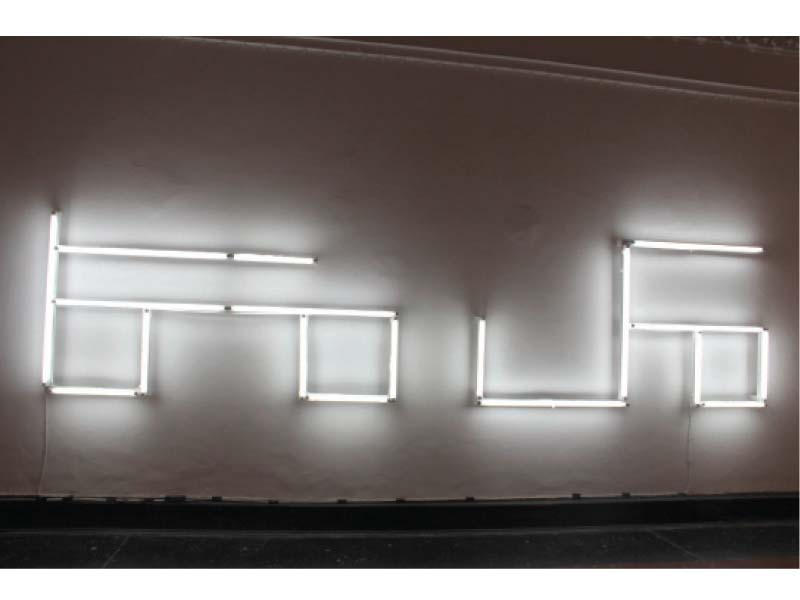 ---
LAHORE: Artist Amin Rehman has worked with several media. The aesthetic element common to all his pieces displayed at the exhibition is the use of the text, says National College of Arts (NCA) principal Murtaza Jafri.

He was speaking to The Express Tribune at the inauguration of Other Histories, an exhibition of Rehman's art works, at NCA's Zahoorul Ikhlaq Gallery on Monday.

The exhibition features 50 art pieces by artist Amin Rehman. Rehman has used excerpts from writer Tariq Ali's works in the pieces. It features 23 encaustic-on-board pieces, nine vinyl installations, nine mixed-media-on-board pieces, seven metal installations, a neon light installation and a video installation.

The show is curated by Amra Ali and Aasim Akhtar.

About the curator's reference to the show as a collaborative effort, Ali says he is humbled by the introduction. His role in the project has been marginal, he says. "I just gave him my books and we discussed certain things," Ali says. He says Rehman has done a great job. "The calligraphy is very well done. My favourite is the mixed media on board piece that reads 'God, less America'," he says. "I'm very pleased that he made these pieces. I think he's a very talented but under-recognised artist," says. "I wish him success not just for his sake but also for the sake of art," he says.   Rehman, a graduate of NCA's class of 1982, says he had first considered doing a collaborative project with a writer five years ago. "The curator at one of my exhibitions suggested that my work had political undertones. He asked me to consider teaming up with Tariq Ali," he says.

"Studying his texts and determining how I could present them in my work took a long time. I gathered excerpts from several books," he adds.

Rehman says he has been working with the encaustic medium for 25 years. He says the inspiration for the encaustic pieces had come from the design of tiles used at the Wazir Khan Mosque.

Published in The Express Tribune, November 24th,  2015.