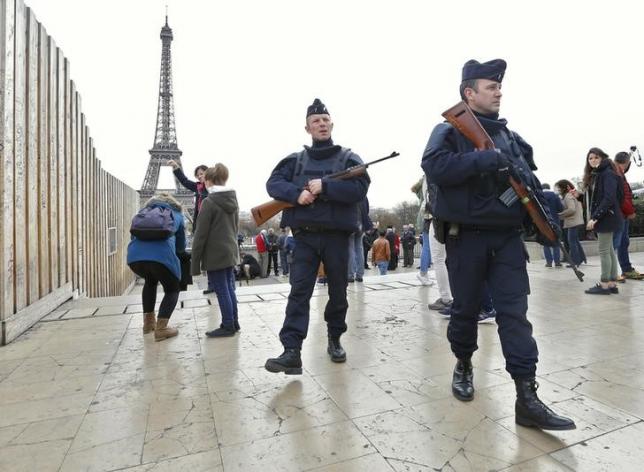 ---
PARIS: France, announcing fresh moves against terrorist financing, said on Monday it would target prepaid debit cards which it said were used in the recent Paris attacks.

"We will regulate more strictly the use of prepaid cards which were used in the November 13 attacks, in order to make it harder to remain anonymous," Finance Minister Michel Sapin told a news conference.

Currently, prepaid credit cards can be recharged without identity checks so long as they don't exceed 2,500 euros over one year.

Details of stricter debit card rules, which are part of a wider set of measures to combat the financing of terror, are to be given in early 2016, the finance ministry said.

Brussels on alert for Paris-like attack

"There are new means of payment which have been created which should be on our radar," said Bruno Dalles, head of the ministry's Tracfin financing intelligence unit.

"I am thinking particularly of prepaid cards, especially if they are delivered in nearby foreign countries and used in France, for example to book hotel rooms," he told the news conference.

Among other measures, finance ministry officials are to be given easier access to information about suspects on police watchlists, allowing them to probe their finances, Sapin said.

Ticket sales for Paris concerts 'plunge 80%' since attacks

France is to also to make it easier to freeze a wide range of assets of individuals suspected of committing, or planning to commit, acts of terror, not just their bank accounts, as is the case now.

Sapin also said he would ask EU members to accelerate implementing the bloc's latest anti-money laundering measures.

"We have received messages of sympathy and support from our (foreign) colleagues," Sapin said, but now "we must go beyond emotion and take action".

Sapin also asked the Financial Action Task Force (FATF), an international body fighting money-laundering and terrorist financing, to become "more subtle" when identifying uncooperative states.

For now, the FATF's black list only contains two countries, Iran and North Korea, he noted.

France will also be asking for easier EU access to SWIFT, the transit system for 90 percent of international bank transfers, Sapin said.

300 arrests in Paris since attacks, says police chief

French security forces have made nearly 300 arrests in the Paris region since the attacks of November 13, police chief Michel Cadot said on Monday.

A total of 298 people have been placed in administrative detention, as well as 71 people under house arrest, Cadot said.

He added there were 10,200 police and 6,400 soldiers deployed across the region that includes the capital -- prioritising stations, airports, large public spaces, government buildings, cultural sites, media companies and hospitals.

"The threat level remains raised," said Cadot.

"We see a number of messages from Daesh (an alternative name for the Islamic State group) being broadcast on the Internet and which clearly target France."

He said there had been a small number of racist or anti-Islamic attacks, but praised the largely "responsible and Republican" response of the French public.

Under the heightened security alert, schoolchildren will not be allowed to take part in the UN climate conference which starts next week just outside Paris, he added.