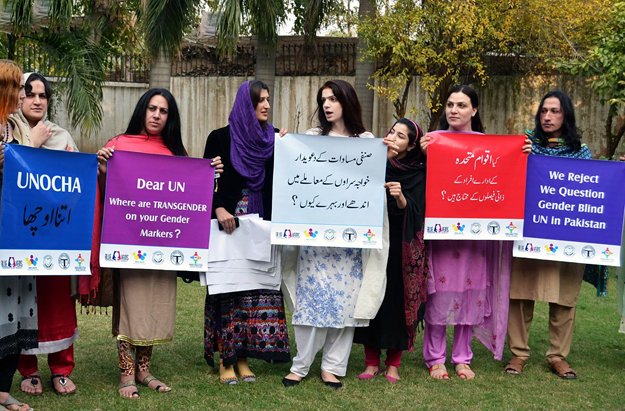 ---
PESHAWAR:



The people who are transgender have voiced reservations over the failure of disaster management authorities and international organisations to protect their rights in K-P and Fata. 




"The national and international humanitarian organisations have failed to protect and compensate people who are transgender in the province and the tribal areas," Trans-Action Alliance K-P Coordinator and Shemale Association President Farzana told journalists at Peshawar Press Club on Friday.

A number of people who are transgender and members of civil society organisations –including MEN UNiTE, Pakhtunkhwa Civil Society Network and Tribal NGOs Consortium - gathered outside the press club. They said the UN agencies and disaster management authorities must ensure the provision of emergency relief to the transgender population in the province and the tribal areas and provide them shelter and nutritional support.

Later, a news conference was held at the press club.

Voicing reservations

Speaking on the occasion, Pakhtunkhwa Civil Society Network Coordinator Taimur Kamal said guidelines and humanitarian protocols of UN and disaster management authorities are gender blind.

However, MEN UNiTE Coordinator Qamar Naseem said the so-called champions of gender equality must know that on September 29, 12 UN organisations released a joint statement that called for an end to violence and discrimination against people who are transgender.

"The people sitting in provincial offices thus have no authority to run UN agencies as per their own wishes as this brings a bad name to the agencies."

Published in The Express Tribune, November 21th, 2015.