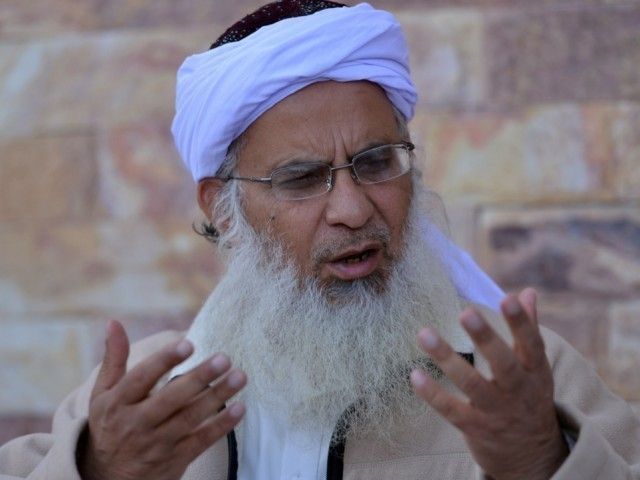 ---
ISLAMABAD: Former cleric of Lal Masjid Maulana Abdul Aziz on Friday gave the government two weeks to fulfill his demands including the recovery of his son-in-law, missing since June 2014.

After Aziz's call on Thursday evening to lead a procession from Jamia Hafsah in G-7 to Lal Masjid, and lead the Friday prayers there, negotiations between the city administration and Aziz continued for two hours on Friday morning. The administration asked him not to take out a rally as his demands will be presented before high-ups, and sought a month for it. But Aziz gave them two weeks and warned them of holding massive rallies across the country if his demands are not met, said an official involved in the negotiations.

Security beefed up in Islamabad as Lal Masjid cleric vows to restart 'Sharia Law' campaign

After the talks succeeded, Aziz gave the sermon via telephone.

A heavy contingent of police and rangers were deployed outside Jamia Hafsah in order to avoid any untoward incident. Senior officials of the administration including IGP Tahir Alam Khan and Additional Deputy Commissioner (General) Abdul Sattar Essani reached the seminary and persuaded the cleric not to take out a procession, shared the official.

The cleric demanded the administration to lift a ban on his movement and not create hurdles in his campaign of enforcing Shariah in the country. He further asked the police to quash an FIR registered on the complaint of civil society last year, and also asked that he be provided police security which he had enjoyed for three years. His last demand is about the recovery of his son- in- law who went missing in June last year. Aziz alleges that security agencies picked up his son-in-law from Lahore.

Lal Masjid cleric vows to continue 'Sharia law' campaign

Another senior official, who requested anonymity as well, said the administration is considering quashing the FIR registered against him by the Aabpara police last year on pressure of civil society after Aziz's controversial remarks following the Peshawar APS attack. However, his remaining demands may not be accepted, explained the official.

Hafiz Ihtesham Ahmed, a spokesperson for Aziz's Shohada Foundation, confirmed to The Express Tribune that the cleric gave two weeks to the administration to fulfill his demands, otherwise, he will take out a rally to enforce Shahriah. "Temporarily Maulana Sahib [Aziz] agreed not to go the mosque and give sermons via the telephone, and after two weeks he will give a final call if his demands are not fulfilled," he added.

On November 13, the controversial cleric restarted his campaign to enforce Shariah and gave a sermon after a gap of almost one year.

Published in The Express Tribune, November 21th, 2015.