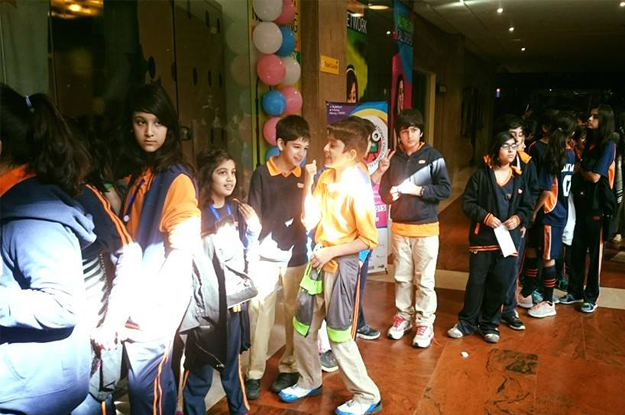 ---
LAHORE:



The 7th International Children's Film Festival, which has been providing schoolchildren the opportunity to watch films from 28 countries, continued on Thursday.




"My favorite movie was Switchman," Hassan Ahmed from Beaconhouse Johar Town said. "It was the best. This boy has a belt that allows him to change his shape. He uses the power to defeat a giant grasshopper," he said explaining why the particular movie had appealed to him.

Ahmed's class fellows concurred with him in this regard. "There was action in the movie which I enjoyed a lot," Fahad Ahmed, a student from the same school, said.

Fortress Square Mall where Cinepax, one of the festival's two venues is located, was overrun with children who lined up to watch movies and later came to the courtyard to enjoy some activities put together there. The Little Art, which has organised the festival, had put together a face painting stall, dart throwing and other games to keep the children entertained.

"I won chocolates by throwing a dice," Muhammad Faraz Tabeel, a student from Beaconhouse Johar Town said. Ecstatic at winning a prize, he said he had also enjoyed watching the movies. "There were so many films that I can't remember how many I saw altogether. I enjoyed them all though," he said.

Student Ayesha Inam from Beaconhouse Askari 10 said she had enjoyed Wildlife Crossing the most. "I found the movie funny, especially when the snail tries to use a kite to cross the road," she said. The animated short film narrates the story of two snails striving to cross a busy road to meet each other. Inam said the movie also appealed to her because it showed how terrified animals were of humans. "At one point, the car almost kills the snail," she said.

The festival is underway at Alhamra on The Mall and Cinepax. It will conclude on November 21. The event will conclude at Alhamra on November 25 after commencing again on Monday.

Published in The Express Tribune, November 20th, 2015.
COMMENTS
Comments are moderated and generally will be posted if they are on-topic and not abusive.
For more information, please see our Comments FAQ