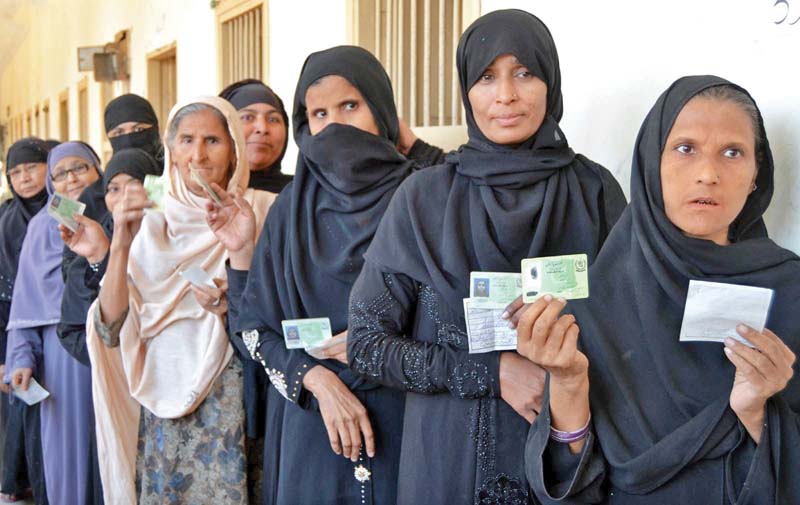 ---
HYDERABAD/BADIN/SUKKUR:



With confusion prevailing over holding of the local government (LG) elections on schedule after the Supreme Court order, a modest turnout was observed in the second leg of the polls in 14 districts of Sindh.




However, the polling process remained largely peaceful despite fears of armed showdowns especially in Badin, Tharparkar, Umerkot and some other districts. Around 6,127 polling stations were set up for around seven million registered voters.




The belated start of the polling process, shortage of polling material and inaccurate voter lists were some common problems that surfaced during the polling. The voting process also briefly halted at several polling stations due to clashes.

There were also reports of barring the media from covering the voting process in the polling stations. The elections were postponed on at least six constituencies mainly due to mistakes in the candidates' election symbol. The allegations of rigging also made rounds as the candidates from around a dozen local councils announced the boycott while the polling was underway.

Turnout

According to the reports from Naushero Feroz, the turnout was quite impressive and, at some places, it was more than 50 per cent. Long queues of voters were seen across Badin district.

The urban voters in Badin did not rush to the polling stations in the morning, which meant the early risers had a fairly smooth voting process. Some late-comers shared why they turned up in the evening. "It is good to go late and get early results," said a voter, Ali Asghar. "I can't wait for hours after I have cast my vote in the morning," he explained. "They are well-aware of the process and knew how to cast their vote," said an assistant president officer at Badin's government boys' high school.

Even though clashes were expected between supporters of Zulfiqar Mirza and the Pakistan Peoples Party, polling remained largely peaceful. "It is all because of the deployment of Rangers," he justified.




Rural parts of Badin witnessed long queues of both men and women since the morning. Many voters were brought to the polling stations by their candidates but the voting process was slowed down as each voter took nearly an hour.

Presiding officer Munawwar Memon explained the reason behind the long queues. There are three ballot papers for each voter, he explained. The first is for the chairperson and vice-chairperson, the second is for general councillor and the third for district council member. "The rural voters are less educated and can't understand the differences. This process takes time," he said.

"I have been waiting for an hour," said Abdul Rauf, adding that the long wait did not deter his will to cast his vote. "We don't like that someone sits at home and waits for change," he said, adding that many people in his village felt this way.

"The contestants spend a lot of money and request us to vote in their favour," said another voter, Momin Kolhi. "They talk about us and our problems so we support them [only] with our votes," he added.

Abdul Ghaffar, a police officer from Jacobabad, which is part of upper Sindh where the LG elections were held on October 31, admitted that the turnout in lower Sindh is significantly higher. "They are very simple people but they know the price of their vote," he said.

Meanwhile, in the urban areas of Hyderabad, fewer voters showed up in the first two to three hours. In contrast, the rural parts witnessed higher turnout. Asifa Bhutto Zardari, the youngest daughter of former prime minister Benazir Bhutto, cast her vote in Jhando Mari taluka's UC Meerabad in Tando Allahyar district, where PPP candidate Mir Papu Talpur was contesting. Her arrival briefly interrupted the polling process as a bomb disposal squad scanned the polling station before her arrival at around 3pm but she stayed only for five minutes.

Postponement

The polling was postponed in some UCs. In Hyderabad Municipal Corporation, UC-53 and two wards of UC-8 and UC-87 were affected along with Qasimabad Municipal Committee's ward 10. In Tando Allahyar district's UC Hingorai, the elections were deferred on ward 1 because the symbol of the PPP candidate, Qurban Jarwar, was changed.

Polling staff was sent to some polling stations where elections were postponed the day before. They only learned about the postponed elections at around 2am. In Naushero Feroz district, polling was postponed in six town committees and eight UCs while, in Shaheed Benazirabad, polling was postponed in one municipal committee, one town committee and six union councils.

Published in The Express Tribune, November 20th, 2015.
COMMENTS
Comments are moderated and generally will be posted if they are on-topic and not abusive.
For more information, please see our Comments FAQ