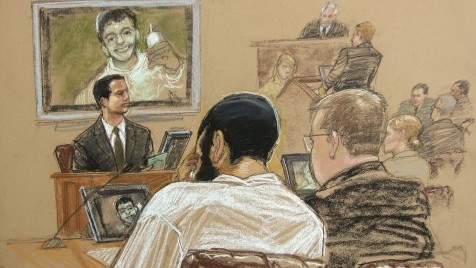 ---
WASHINGTON: The first substantial military commission hearing of the Obama administration continues in Guantanamo Bay.

Accused war criminal, Omar Khadr, failed to attend the morning pre-trial hearing' second day on April 29. Khadr did not show up because of what his lawyer described as severe pain in his blinded left eye.

The 23-year-old did attend the afternoon session, sitting with his hands over his eyes, dabbing at them with a tissue and crying occasionally. Prosecutors replayed a video showing a young Khadr learning to wire roadside bombs in Afghanistan.

Defence lawyers say the video should be barred from the court as it has no relevance to the defendants verbal statements. The video was found in a tunnel under the mud-walled compound where Khadr was captured in Afghanistan in July 2002.
COMMENTS
Comments are moderated and generally will be posted if they are on-topic and not abusive.
For more information, please see our Comments FAQ