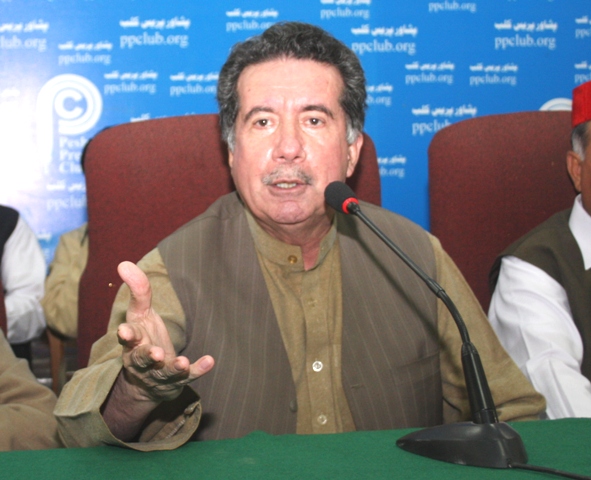 ---
ISLAMABAD: This is the third part of a series of interviews with former Awami National Party (ANP) senator Afrasiab Khattak tracing the rise and fall of Pakistan's left wing. In the first part, Khattak explored the emergence of socialism in India under the British Raj, the establishment of leftist factions in the nascent state of Pakistan and golden age of the left wing in the country in the 1960s. In the second part, the former senator described the factors and events that sparked the decline of leftist politics in Pakistan. In this part, Khattak discusses how the leftists' failed to adapt as the country's politics shifted at the height of the Cold War in the 1980s and eventually found themselves consigned to irrelevance.

Pakistan's already fragmented left wing, disillusioned with the Pakistan's Peoples Party, degenerated further in the 1980s before suffering a final blow with the disintegration of the Union of Soviet Socialist Republics (USSR) in 1991.

Political musings: Ups and downs of the leftists-II

And as religious fundamentalism grew in Pakistan, the leftists left shattered by the dissolution of the Soviet Union failed to readjust and update their narrative to match both local and international politics post Cold War.

According to Afrasiab Khattak, it would be incorrect to pin responsibility for the left's decline on a few individuals. "There were a number of factors. To start with, the areas that became Pakistan were socio-economically backward compared to developed urban centres like Mumbai, Calcutta, Madras and Delhi."




"Ours was more or less an agrarian region, some of which was dominated by tribalism. The progressive leftist movement was [as such] weaker here than in areas which became part of India," he said. "Many non-Muslim leftists left Pakistan for India when the Hindu community migrated, further weakening the left in Pakistani urban centres."

Political musings: Real power deals of Pakistani politics—I

Those who came from India to organise the leftist movement in Pakistan, while sincere, were unable to grasp the ground realities in the country, he added.

"They couldn't connect with local mass movements and ethos," Khattak said. "There was a big Hari movement in Sindh. There was the Khudai Khidmatgar movement in our province (Khyber-Pakhtunkhwa, then the North-West Frontier Province). In Balochistan, you had the Bizenjo-led Ustaman Gal and Abdul Samad Achakzai-led Wror Pashtun movements."

"These were all anti-imperialist movements endorsed by common people. They had deep roots. The socialists who came from India could not connect with them," he added.

Political musings: Real power deals of Pakistani politics—I

Then, during the Soviet-Afghan war, Pakistan was pushed towards the right through large-scale political engineering, according to Khattak. The war coincided with the dictatorship of General Ziaul Haq, who was really hostile towards the left.

"The United States and Western Europe began pumping a lot of resources to stoke religious extremism in our region [Pakistan and Afghanistan]," he said. "They saw Central Asia as the 'soft belly' of the Soviet Union. They believed the religious movements they were encouraging here would make their way to Central Asia through Afghanistan."

The decline of secular nationalism in the Arab world also had a far-reaching impact on Pakistan's progressive movements, according to Khattak.

"With the separation of East Pakistan, we were cut off from Southeast Asia and gravitated towards the Gulf countries," he said. "Our labourers went to the Middle East in large numbers and Pakistani society began absorbing a lot more influence from Arab countries."

Political musings: External, internal factors led to fall of ZAB – II

Secular nationalism emerged as the dominant force in Middle Eastern politics in the 1950s, with people like Egypt's Gamal Abdel Nasser and the Ba'ath party of Iraq and Syria. But comprehensive defeats in the Arab-Israeli wars of 1967 and 1975 weakened the movement greatly and helped the rise of Islamic nationalism.

The Muslim Brotherhood was initially the nucleus of Islamic nationalism in the Middle East. However, the Wahhabi ideology became the core of the change when Arab elites too moved towards Islamic nationalism.

During the Soviet-Afghan war, Wahhabism made its way to this region as well, Khattak said.

The final blow to leftists in Pakistan was the collapse of the Soviet Union.

Leadership: Left urged to evolve a better strategy

"We believed in non-capitalist development. This thesis hinged on the idea that our societies would progress without capitalism with the help of advance socialist countries," the former senator said. "When socialist countries collapsed, so did this thesis."

Khattak discussed the decline of socialism in the context of Vladimir Lenin's 1918 treatise 'A Great Beginning'.

"Lenin wrote that after the socialist revolution, socialist and capitalist systems would compete with each other globally," he said. "Although he said several factors would decide which side emerged victorious, key among them would be productivity of labour."

"The fact of the matter is that capitalists ended up with more productivity of labour. The socialists, meanwhile, focused more on extensification and then competed with each other," he added.

Pakistan's liberal future

However, this, according to Khattak, does not mean that socialism has suffered its ultimate demise.

"The concept of socialism has kept emerging in one form or another throughout human history. The social security systems you see in the West are inspired by socialism," he said. "As long as there is disparity between people, socialism will emerge in one form or another."

The former senator insisted that countries like Pakistan particular need socialist democracy.

Khattak also deplored the lack of an alternative narrative in Pakistan. "Political forces go through ups and downs, but what worries me is that our state is neither disinterested nor inactive politically. Our state has been carrying out political engineering, sometimes with naked coercion," he said.

"Currently, this political engineering has left Pakistan with two Punjabi elites, both of which are basically right wing," he said, referring to Pakistan Muslim League-Nawaz and Pakistan Tehreek-e-Insaf. "Power will now be handed from one Punjabi elite to the other, leaving no hope for the federating units and the poor."

Published in The Express Tribune, November 16th, 2015.
COMMENTS (2)
Comments are moderated and generally will be posted if they are on-topic and not abusive.
For more information, please see our Comments FAQ