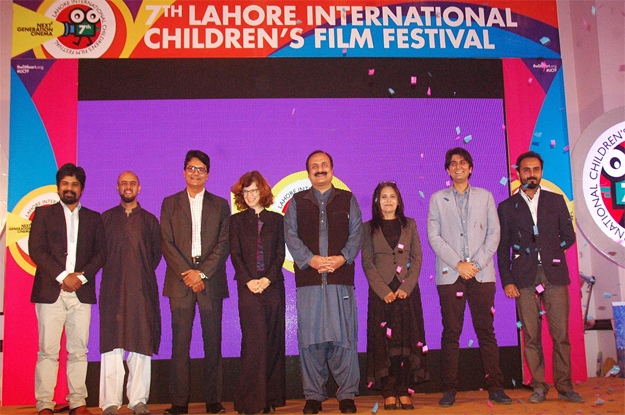 ---
LAHORE: We try to bring the best films to children from throughout the world to expand their understanding, said Shoaib Iqbal, The Little Art director, at the opening ceremony of the 7th International Children's Film Festival on Sunday.

"We want to reduce the differences of race and religion through collaboration with international filmmakers," he said.

Iqbal said they had faced scepticism from several quarters when they first came up with the idea of the festival seven years ago. "Some people said children do not need to watch movies since they already watch a lot of television. We explained to the naysayers that the content will be different. These films carry a message. They speak to the children," he said.




He said that the festival had grown exponentially over the years. "This year it will be taking place at two venues - at Fortress Square and at Alhamra, The Mall. Out of a total of 983 submissions, the festival organisers have chosen 77 that will be screened. While selecting the films, we took into consideration their message and whether they are culturally appropriate or not," Iqbal said.

This year, The Little Art also gave local schools the opportunity to make their own films. They were given equipment and assistance allowing them to explore filmmaking. Out of these entries, 28 will be screened.

"The films we have this year deal with sensitive themes such as exploring relationships and problems faced by children," said Wajiha Raza Rizvi, who is part of the jury for the film festival. She said she was impressed by the positive attitude of filmmakers taking part in the festival.

"The festival allows Pakistan to be part of an international community of filmmakers. It is an excellent platform for young filmmakers to display their work," she said.

The event is also being sponsored by the Canadian High Commission. Heather Cruden, the Canadian high commissioner in Pakistan, was also present at the opening ceremony. She said films had always been a vehicle for social and cultural learning. "The festival is an excellent platform for giving children access to high quality videos," she said.

A video was shown at the ceremony showing filmmakers encouraging children to think positively, hoping they took away a good idea from their work. The video included some child actors from the films. Another video listed the films and explained the messages they had for children.

Minister for Youth and Education Rana Mashhood Ahmad Khan was also present on the occasion. He extended his full support to the initiative, saying he would work on taking the films to government schools.

The festival will continue from November 16 (today) to November 25.

Published in The Express Tribune, November 16th, 2015.
COMMENTS
Comments are moderated and generally will be posted if they are on-topic and not abusive.
For more information, please see our Comments FAQ