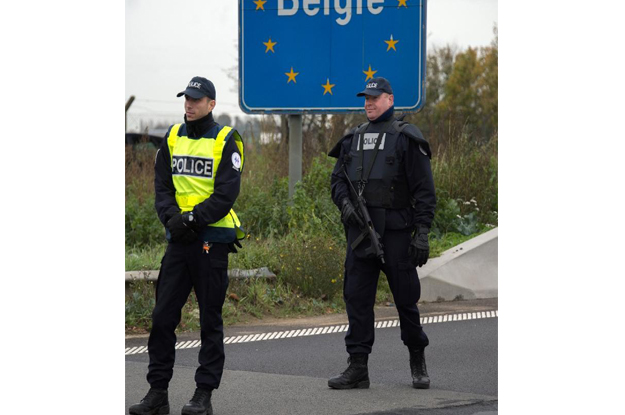 ---
LONDON: European capitals beefed up security outside French institutions and called for greater public vigilance on Saturday after a series of coordinated attacks in Paris in which 129 people were killed.

Governments across Europe held emergency meetings to assess the threat level, with British Prime Minister David Cameron pointing to an 'evolving' threat from the Islamic State group which claimed the attack.

Countries bordering France, including Belgium, Germany and Switzerland, also said they were stepping up checks after French authorities also announced restrictions for traffic in and out of the country.

"Last night's attacks suggest a new degree of planning and coordination and a greater ambition for mass casualty attacks," Cameron said after a security cabinet meeting at his office in Downing Street. "We in the UK face the same threat," he added.

Reflecting the heightened concern, a 41-year-old man was arrested with a suspected firearm after sparking a security alert at London's Gatwick airport.

In Amsterdam, a plane bound for France was evacuated after Twitter "threats" against the flight.

Belgium advised its citizens against visiting Paris and Britain's Foreign Office urged travellers to France to "exercise caution in public places".

In Vienna, host to international talks on Syria, the French Lycee remained shut and the inauguration of a popular Christmas market in the Austrian capital was cancelled.

Some of the other key developments in Europe

• BRITAIN: London's Metro-politan Police assistant commissioner Mark Rowley said: "We are strengthening our policing stance across the country at the moment".

The French embassy in London said on Twitter that it was "in close contact with British authorities to ensure the security of the French community," which is estimated to number around 300,000 people.

• RUSSIA: The National Anti-Terrorism Committee said in a statement carried by Russian news agencies that the country's security had been put on high alert.

"In light of the new threats, all components of the security system have put been put on high alert," it said, urging "high responsibility and vigilance in the face of new challenges" from the public.

• GERMANY: German Chan-cellor Angela Merkel chaired an emergency meeting to discuss "the situation in France and all related questions".

Interior Minister Thomas de Maiziere urged against anyone "drawing such swift links to the situation surrounding refugees".

German federal police said they were carrying out selective controls along French-German border, at German airports
on flights arriving from France and on some international train services.

• BELGIUM: The Belgian authorities boosted checks at the French border and called for greater vigilance at major events over the weekend but said it was not necessary to increase the alert level.

Prime Minister Charles Michel on RTBF television also said that "systematic searches" would be carried out at certain public events. The French-language tabloid newspaper La Derniere Heure said the raids were carried out to find evidence in homes of three young people who it claimed took part in the Paris attacks.

• POLAND: Poland said it was increasing checks on departures and arrivals of flights to and from "potentially at-risk destinations".

The country's incoming European affairs minister said Poland will not take in refugees under a hotly contested EU programme to distribute them among member states.

"Poland must retain complete control of its borders, as well as its asylum and migration policy," Konrad Szymanski wrote on right-leaning website wPolityce.pl.

• BULGARIA: Prime Minister Boiko Borisov called on Bulgarians to be vigilant of "suspicious behaviour" among migrants transiting through Bulgaria.


Published in The Express Tribune, November 15th, 2015.
COMMENTS
Comments are moderated and generally will be posted if they are on-topic and not abusive.
For more information, please see our Comments FAQ