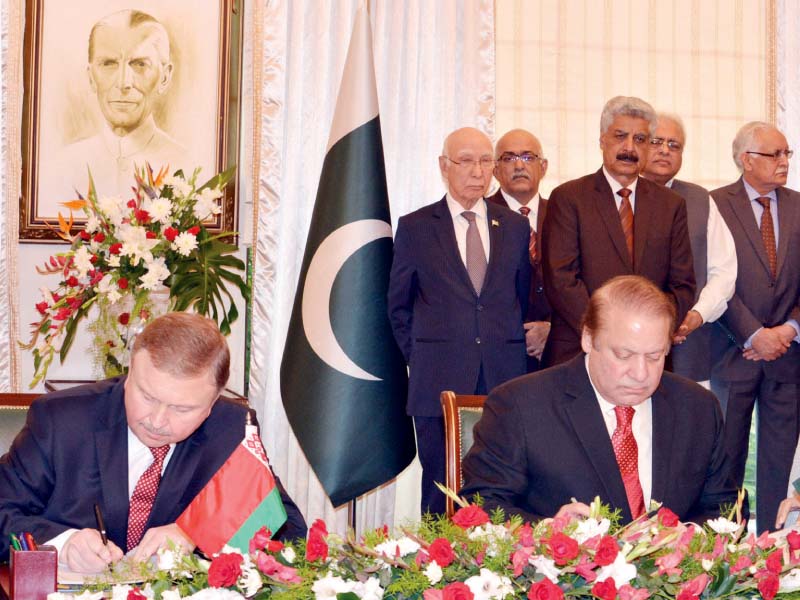 ---
ISLAMABAD: Pakistan and Belarus signed 18 accords of economic and humanitarian cooperation on Tuesday.

The two countries have inked seven agreements, six memoranda of understanding and three protocols to agreements in addition to two more programmes on roadmaps to economic and humanitarian assistance.

Belarus, Tajikistan presidents to visit Pakistan next week

Belarus Prime Minister Andrey Kobyakov is in Pakistan on a three-day visit – the first by any PM from the east European country. PM Nawaz Sharif welcomed the Belarusian premier and his delegation, and said such visits would augment their ties in the future.

Both the PMs signed the programme titled "Roadmap for fast-track and middle-track economic cooperation between Pakistan and Belarus" at a ceremony held at the PM House.

They vowed to increase bilateral trade to $1 billion with a focus on industrial cooperation, and agriculture and infrastructure development.

Enhancing bilateral ties: Pakistan, Belarus sign 14 MoUs

They claimed to have had "a very productive round" of talks, agreeing on concrete steps to further enhance bilateral cooperation between the two countries.

PM Nawaz said the two sides discussed regional and global issues, and took decisions to further fortify their ties. "We decided to undertake several new initiatives with particular emphasis on enhancing trade and investment relations," he said.

PM Kobyakov said the two countries would move from simple trade to strong industrial cooperation. "We have extensive experience in construction [industry] and can also help Pakistan in the agriculture and forestry sectors besides assisting with modernising its industry."

CASA-1000: Pakistan, Tajikistan agree to speed up power deal

The two sides also discussed a whole range of issues, including cooperation in defence and defence production, counterterrorism and narcotics control. The need for collaboration in education, culture and people-to-people contacts also came under discussion.

PM Nawaz urged upon Belarusian investors to benefit from the incentives offered by Pakistan's Special Economic Zones.

Earlier, the Belarusian PM was given a warm welcome on his arrival at the PM House. A contingent of all three services presented a guard of honour to the visiting dignitary as the national anthems of both the countries were played.

Premier Nawaz had visited Minsk, the capital of Belarus, in August this year.


Published in The Express Tribune, November 11th, 2015.