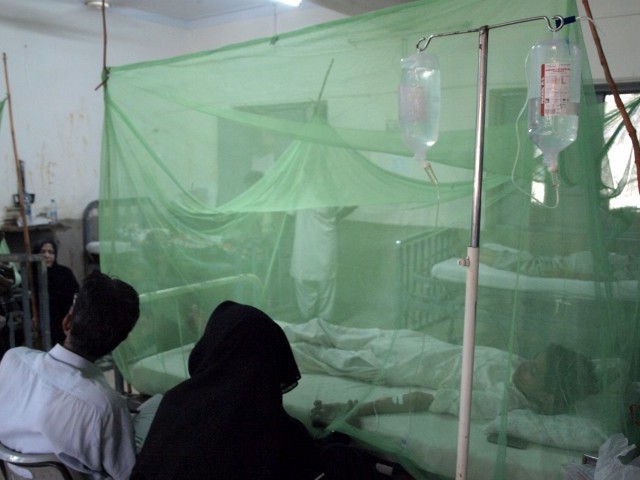 ---
TAXILA: The continuous rise in the number of dengue virus cases in the Taxila area has forced the local administration here to declare "dengue emergency" in the tehsil.  

The number of confirmed dengue cases in the city has reached a record high. At least 57 cases had been registered this year till the time this report was filed on Saturday.

Despite strict orders given by Rawalpindi Commissioner Zahid Saeed to take action against those found showing negligence when it came to implementing anti-mosquito arrangements, so far, not a single official has been held responsible.

Official data available with this correspondent revealed that the mosquito-borne disease had reached an alarming level in various areas of the city.

As per the official data a record number of dengue patients have been reported at various government hospitals in the province this year.

During the last three days alone, six positive cases were referred to Holy Family Hospital, Rawalpindi.

Moreover, sources in the local health department said that over 40 individuals from the region have been referred to Holy Family Hospital, Rawalpindi this year.

Surprisingly, data on dengue patients being treated at various private hospitals, the military-run POF Hospital, or Heavy Industries Taxila Hospital is not available with the health department or the local administration.

Sources claim that the actual number of dengue cases is much higher than the government figures. They said government officials were trying to brush the actual figures under the carpet to save their skins from the Punjab chief minister's displeasure.

The chief minister has earlier expected his displeasure over the alarming increase in the number of dengue cases in the district.

Sources in the health department said that authorities concerned did not carry out larvicide spray on water reservoirs and marshy areas especially in high-risk locations, which led to surge in number of dengue cases.

Assistant Commissioner Shahid Imran Marth told Daily Express, "We have declared 'dengue emergency' in Taxila Tehsil as the number of positive cases has reached the highest level ever."

The assistant commissioner said fumigation was carried out in around 90 houses where dengue larvae were found.

He said that an awareness drive was also launched in the city to educate the masses about the causes of the disease, and measures necessary to eradicate it. Taxila THQ Hospital Medical Superintendent Dr Muhammad Shahid said that 46 dengue patients had been treated at the hospital this year.

He said that a special dengue isolation ward had been set up at the hospital to provide free-of-cost treatment and blood testing facilities for suspected cases.

Published in The Express Tribune, November 8th, 2015.
COMMENTS
Comments are moderated and generally will be posted if they are on-topic and not abusive.
For more information, please see our Comments FAQ