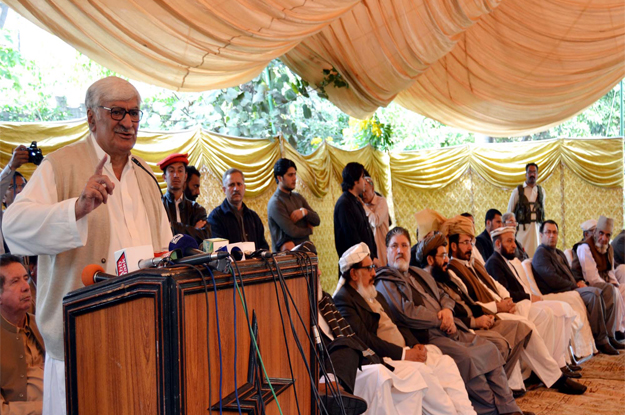 ---
PESHAWAR: Awami National Party Central President Asfandyar Wali Khan said Pakistan and Afghanistan cannot let anyone use their soil against each other and ensure there is lasting peace in the region.

He was addressing a gathering in memory of the late Afzal Khan Lala at the residence of Haji Ghulam Ahmad Bilour. The memorial was also attended by an Afghan delegation on Saturday afternoon. Asfandyar said peace in Pakistan was impossible without peace in Afghanistan. He urged Kabul and Islamabad to consider ground realities, adding that creating stability in the region was a two-way street.

Paying tribute to Lala, the ANP chief said his death was a great setback to the nationalist movement as a whole.

"Bacha Khan used to say that violence creates hatred and non-violence brings about love and it is high time we turn to his philosophy," he said.

Asfandyar said hujras and jirgas were prestigious gatherings and the culture must be revived.

Head of the Afghan delegation, Engineer Muhammad Khan, said Lala worked and struggled for peace his entire life. "Let me assure you that we, the government and people of Afghanistan, stand with his bereaved family in this hour of sorrow," he said. We hope to carry on the Lala;s mission."

He said Pakhtun culture does not target women, children and the elderly and they expect others to follow the same principals. "If we do not work for peace, it creates room for unrest," he added.

ANP leaders Haji Ghulam Ahmad Bilour, Senator Ilyas Bilour, Haroon Bilour, Sardar Hussain Babak, Afrasiab Khattak and others were present on the occasion. The Afghan delegation consisted of 45 members including parliamentarians, tribal elders and political leaders.

Meanwhile, Afghan President Dr Ashraf Ghani and the country's former head of state, Hamid Karzai, expressed grief and sorrow over the demise of Afzal Khan Lala.

They termed it a great loss for the people of both Pakistan and Afghanistan. Through separate messages, they said the nationalist leader not only strived for the unification of Afghans, but also battled for peace and stability in the region. In his message, Ghani said he spoke to Lala a day before his death, while Karzai recalled the nationalist leader as his elder and senior.

Published in The Express Tribune, November 8th, 2015.
COMMENTS
Comments are moderated and generally will be posted if they are on-topic and not abusive.
For more information, please see our Comments FAQ