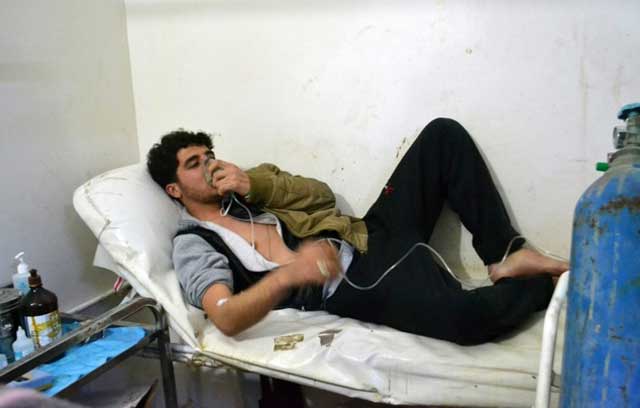 ---
THE HAGUE: The UN chemical weapons watchdog confirmed with "utmost confidence" on Friday that mustard gas was used in Syria in August during fighting between rebels and militants and "likely" killed a child.

Experts from the Organisation for the Prohibition of Chemical Weapons also found toxic chemicals, including chlorine, were likely used as a weapon in an attack in Idlib province in March, the OPCW said in statement.

Three reports have been sent by the head of the OPCW to the body's 192 members after separate missions to investigate incidents in Syria.

In one attack in the town of Marea in Aleppo province on August 21, the OPCW team investigated after "a non-state actor had allegedly used a chemical weapon."

Islamic State making use of chemical weapons in Iraq, Syria: US official

They collected samples and "interviewed two individuals affected by exposure" as well as the doctors that treated them.

"In this case, the team was able to confirm with utmost confidence that at least two people were exposed to sulphur mustard, and that it is very likely that the effects of this chemical weapon resulted in the death of an infant," the OPCW statement said.

OPCW sources told AFP late Thursday investigators had for the first time in the four-year war confirmed the use of deadly mustard gas in Syria.

First used in battle in World War I, the gas causes the skin to break out in painful blisters, irritates eyes and causes eyelids to swell up, temporarily blinding its victims.

Internal and external haemorrhaging then results and destroys the lungs.

Iraqi Kurdish forces hit with suspected chemical attack

While the OPCW's mandate is not to apportion blame, activists on Friday accused militants from the Islamic State group of using the gas as part of its sustained campaign to capture Marea.

Doctors Without Borders (MSF), which operated a nearby field clinic, treated four members of a single family for "symptoms of exposure to chemical agents" after the Marea attack.

Residents told MSF they saw a "yellow gas" when a mortar round hit their house.

In a separate investigation, OPCW experts probed allegations that toxic chemicals were unleashed in March in northwestern Idlib.

The team "concluded that the alleged incidents likely involved the use of one or more toxic chemicals - including chlorine - as a weapon."

Human Rights Watch had accused the regime of Syrian President Bashar al-Assad of dropping barrels filled with chlorine in the rebel-held area during six attacks from March 16 to 31.

However, in a third incident in which the Syrian government said its soldiers had been exposed to toxic chemicals in Jobar on the eastern edge of Damascus on August 29, the OPCW "could not confidently determine that a chemical was used as a weapon."

In September 2014, the OPCW confirmed that chlorine was used as a chemical weapon "systematically and repeatedly" in villages in northern Syria earlier in the year. It cited attacks in the villages of Talmanes, Al-Tamana and Kafr Zeita.

Now a special OPCW mission has been set up to investigate who is behind the deadly gas attacks.

Under a deal hammered out in 2013 between Russia and the United States following a sarin gas attack on the outskirts of Damascus in which hundreds died, the regime pledged to hand over all its toxic weapons to the OPCW for destruction.

Assad's government had had stockpiles of more than 19 tonnes of mustard gas.

But activists said IS had probably managed to get hold of the gas smuggling it via Turkey or Iraq.
COMMENTS (2)
Comments are moderated and generally will be posted if they are on-topic and not abusive.
For more information, please see our Comments FAQ