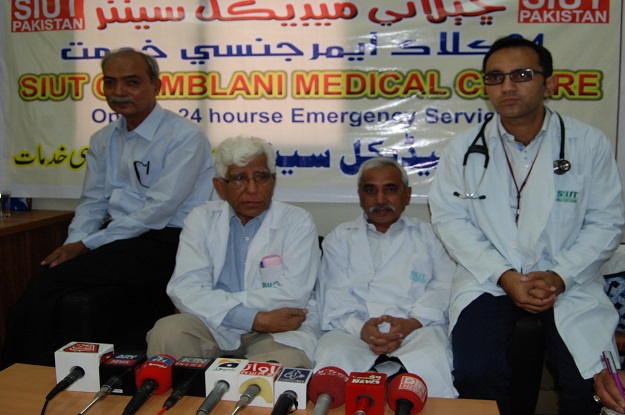 ---
SUKKUR:



The Sindh Institute of Urology Transplantation (SIUT) in Sukkur has opened a 24-hour emergency out-patient department to provide emergency services to kidney patients, announced Dr Adibul Hassan Rizvi while addressing a press conference on Thursday.




Speaking about the need to establish the SIUT unit in Sukkur, Dr Rizvi said that people from far flung areas of Sindh and Balochistan used to visit the SIUT in Karachi for treatment of kidney diseases. He added that this was costly for the patients, because of which most of them did not go back for a follow-up check-up and put their health at risk. "Sukkur is the centre of upper Sindh and people from other districts can easily come here for treatment," he said.

Encouraging people to come forward and donate generously, Dr Rizvi said, "Investing in the SIUT is like investing to safeguard our future generations." He added that 90 patients are provided with the facility of dialysis every day at the newly-opened OPD.




At least Rs5,000 to Rs6,000 is needed every time a patient undergoes dialysis and some of the patients have to go through the process twice a week, Dr Rizvi said. Similarly, lithotripsy charges for removing one centimetre stone are Rs40,000. "We are moving forward in phases to provide better treatment to the kidney patients, as free medical treatment with dignity is the birth right of every citizen," said Dr Rizvi.

Referring to the cause of kidney ailments and renal failure, Dr Rizvi said hypertension, diabetes, unfiltered water and use of pain killers are some of the major causes of the disease. Children develop kidney stones due to malnutrition and dirty water. He expressed concern that Sukkur is situated in the red zone for kidney diseases, which is why 10 to 15 per cent of the population is suffering from the illness.

As per their mission, the SIUT aims to provide free medical treatment to people with dignity. Dr Rizvi hopes that with the launch of 24 hours emergency OPD, more people will be avail the benefits of modern medical treatment. Funds are required for the smooth provision of these facilities to the people, and therefore well-to-do people need to shoulder the responsibility to continue the mission properly, Dr Rizvi said.

Last month, SIUT performed the ground-breaking ceremony of a new four-storey operation theatre block, for which the Feroza Hasham Foundation donated Rs60 million. Dr Rizvi said that the foundation initially donated the amount to be utilised in Karachi. However, a new operation theatre block was needed in Sukkur for which the funds were used instead , he added.

Three other professors from the SIUT, including Manzur Zahidi, Dr Baksh Ali Brohi and Dr Sarfaraz, were also there at the press conference.

Published in The Express Tribune, November 6th, 2015.