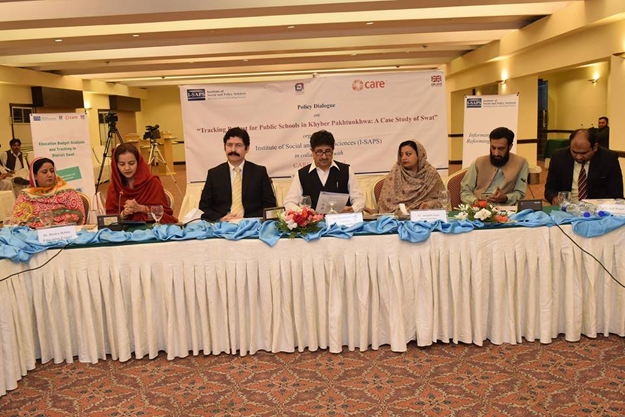 ---
PESHAWAR: Quenching thirst is not an option for students at around 740 schools in Swat which lack drinking water facilities.

This was highlighted at a seminar organised by the Institute of Social and Policy Sciences (I-SAPS) on 'Tracking budgets for public schools in Khyber-Pakhtunkhwa: A case study of Swat'. Speakers at the event which was held in the city on Monday stressed it was imperative to work on teacher rationalisation and the effective utilisation of resources.

Making the transition

I-SAPS research fellow Abdullah Alam shared Swat district has 1,529 government schools of which 57% are coeducation, 25% for boys and 18% for girls. He said the majority of these institutes are primary schools.

Alam underlined the obvious challenges in transitioning from primary to higher levels of education. Gender disparity was evident in the numbers. At secondary level there are only 22 girls schools compared to 73 for boys. At the higher secondary level, there are 13 schools for boys and a measly five for girls.

"The number of students enrolled in Swat is over 313,000 and a whopping 80% of them are at the primary level. At the other end of the scale, just 4% are at the higher secondary level," said Alam.

Quoting an annual school census from 2013-14, Alam said the transition rate from primary to middle school is 65%. "The gender gap has significantly reduced in Swat over the last few years due to increased enrolments at the primary level," he said.

The research fellow highlighted there are nearly 8,000 teachers employed at government schools in the district – insufficient given the number of students.

About missing facilities at schools, Alam said, "At least 825 of them are without electricity, 667 lack boundary walls and 478 have no toilets."

Baseless budget

He shared Rs4.9billion was allocated for education in Swat in 2014-15, an increase of 32% from the previous year. On the occasion, participants said while the government made increases every year, the main problem arose in terms of utilisation. They slammed officials for not spending the amount appropriately.

Education is key

Finance Director Saifur Rehman Usmani said every government wants to keep education on top of their priority list and develop the sector. He said lack of awareness was holding people back from taking benefits even though authorities had brought everything to their doorstep.

He urged social activists to play a role in highlighting the importance of education.

Elementary and Secondary Education department representative Abdul Shakoor appreciated I-SAPS' work. He stressed such surveys should be conducted in other districts so people understand the real state of education.

"Through Parent Teacher Councils, issues can be resolved at the grass-roots level." Shakoor added they hired 15,000 teachers in 2014 and were planning on recruiting an additional 10,000 this year.

Published in The Express Tribune, November 4th, 2015.
COMMENTS
Comments are moderated and generally will be posted if they are on-topic and not abusive.
For more information, please see our Comments FAQ