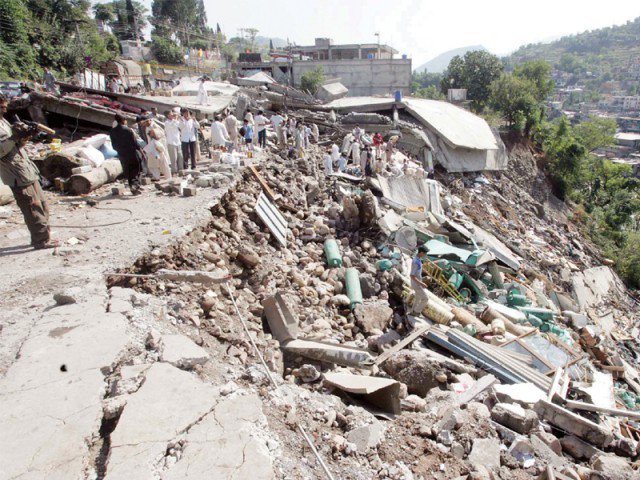 ---
MINGORA:



Two days after a devastating earthquake ripped through various parts of the country, a wave of panic spread through Swat. The catastrophe claimed 34 lives in the region and left 199 others wounded. Residents live in mortal fear of what lies ahead. The initial trauma has not yet been replaced by the pressing need to look ahead. 




False sense of security

At first, nothing will strike you as out of the ordinary as you enter Malakand through Dargai check post. However, the effects of Monday's earthquake are still tangible. Frequent aftershocks make people's blood run cold with fear and they rush out of their homes towards open grounds. Security at check posts has also been tightened as high-ranking officials plan to visit the area following the earthquake.

Residents of Mingora – the main town of Swat and the business hub of Malakand Division – also find themselves on edge. A false sense of security has gripped the region. Although most of Mingora's buildings have not been damaged or destroyed by the tremors, neither of them are safe. Many multi-storey buildings were constructed after the military operation without consulting architects, government officials or engineers. Locals fear aftershocks will flatten these buildings and result in massive casualties.

Shaukat Sharar, an architect in Swat, tells The Express Tribune all buildings in Makanbagh, Landi Kas, Qambar, Bypass, Green Chowk, Nishat Chowk and Fizza Gat were constructed without conducting a thorough land survey. "We live on the fault line and these buildings collapsing will lead to human losses," he explains, pointing towards a plaza in Mingora.

"It is rumoured the building was constructed from poor-quality cement," says Naveed Zada, a college lecturer. "Many people are trying to evacuate buildings in Grassy Ground, Green Chowk and Kanju Town."

Shattered lives

Fazal Rabi, a comedian who has devoted his life to making people laugh, finds himself at a loss for words following the catastrophe. "With every aftershock, we run towards open grounds," he says. "However, most of the grounds are crowded with people and there is often no space to accommodate more. As a result, we have no choice but to stay indoors and pray for our safety."

Zarak, a businessman, says the earthquake has traumatised his children and they are often seen crying inconsolably during aftershocks.

Pointing fingers

The destruction wreaked by the earthquake has drawn attention to a series of unsustainable practices which residents have failed to bring under control.

Ihsan Khan, a landlord from Khwazakhela, tells The Express Tribune the people of Swat Valley are to blame for the destruction wreaked by the natural disaster. "Poor urban and rural planning and deforestation are the reasons for the vast level of destruction," he adds.

According to Ihsan, the foundation of houses constructed across the valley cannot withstand earthquakes.

Karim Shah, a resident of Bahrain Bazaar who runs a garment shop, claims most hotels and shops are built on the edge of Swat River.

"There are huge cracks behind our shops," he says. "Hiding these cracks from tourists is difficult. The district administration should visit the area and evacuate people and tourists."

Sigh of relief

Abdullah, an official of the district government, says he is surprised that an earthquake of such a high magnitude did not wreak more damage.

"We were spared from a major catastrophe" he says.  "We would not be able to tackle such a disaster. We don't have the equipment or facilities to assist victims at this stage.

"People should know, that they are on their own," he adds.

Published in The Express Tribune, October 29th, 2015.