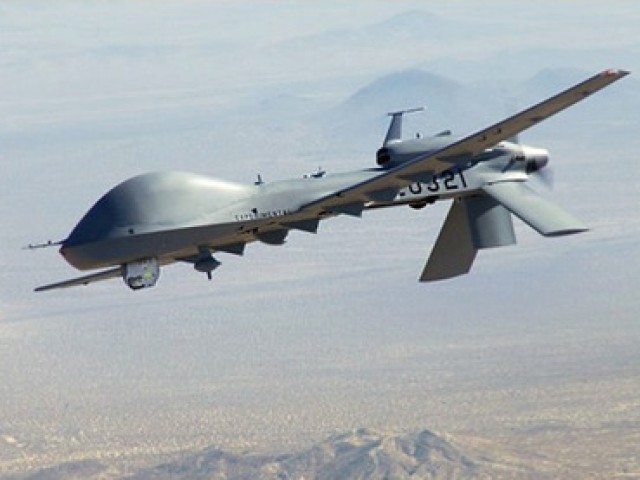 ---
LANDIKOTAL:



An unmanned predator drone bombed a suspected Islamic State (IS) hideout on the Afghan side of the border, killing six militants.




Local sources said that six militants associated with the Middle-Eastern, ultra-extremist group, which is also known by its Arabic acronym of Da'ish, were killed in the Nazyan district of Nangarhar province while three more were injured. Names and identities of the dead or the injured militants have not been determined yet.

An intelligence official confirmed the strike but said the exact casualty figure could not be determined.

The area is a hotbed for several militant outfits and has recently witnessed the rise of IS, which has established a self-styled Islamic caliphate system over large areas of Iraq and Syria. Their reign of terror has attracted widespread criticism and military action by a US-led coalition.

While there have been many drone strikes in the Pakistan-Afghanistan border area to target IS hideouts, the US only designated the IS affiliate in Afghanistan and Pakistan – IS-Khorasan – a terrorist group in its newest watch-list, slapping sanctions against its major leaders and financial figures.

IS-Khorasan's formation was announced in an online video on January 10. The group is led by former Tehreek-e Taliban Pakistan commander Hafiz Saeed Khan, and mostly consists of former Pakistani and Afghan Taliban faction commanders.

In July, however, the Afghan intelligence agency NDS claimed Hafiz Saeed had been killed in a US drone strike. An IS spokesman later denied the claim.

Earlier this month, one of the most senior fighters of the outfit withdrew his allegiance to the IS-Khorasan chief in a major blow to the IS' expansionist plans in the region.

Maulvi Abdul Rahim Muslim Dost, a former Guantanamo prisoner, accused the Dai'sh regional chief of "killing, arresting and insulting people" in violation of Islamic principles.

Security officials believe a number of Pakistani militants have fled to Afghanistan in the wake of military offensives launched last June in the country's border regions.

Published in The Express Tribune, October 24th, 2015.