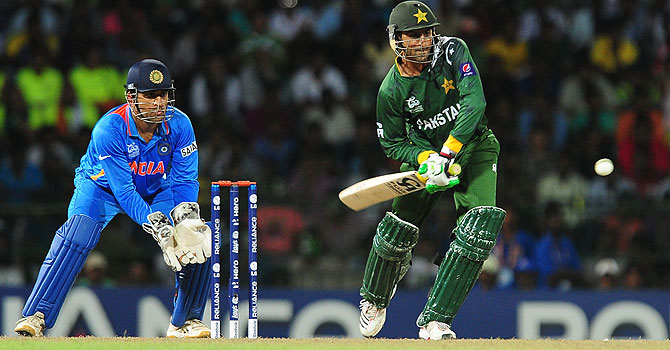 ---
After two days of looming uncertainty over the Pakistan-India series, a dejected Pakistan Cricket Board (PCB) chairman Shahryar Khan said on Wednesday that the government has told him to stop pushing for the series which India is 'hesitant' to play.

"I am returning to Pakistan a disappointed man," the PCB chairman said.

Shahryar claimed the Board of Control for Cricket in India (BCCI) was bowing to extremists who are against any bilateral cricketing relations.

"In Pakistan, they are upset at the treatment we have been given. Let alone rescheduling or telling us they want to amber-light the series, I haven't even got a phone call. So I can do nothing but go home," he said.

Shahryar Khan disappointed by BCCI's attitude

Shahryar's meeting with BCCI president Shashank Manohar was cancelled in Mumbai on Monday after Shiv Sena protesters stormed the BCCI office.

The PCB chairman also denied BCCI secretary Anurag Thakur's claim that his visit to India was a "courtesy call" from the newly-elected Indian board president Shashank Manohar.

"Mr Thakur is seemingly unaware of my conversation with Mr Manohar, in which he asked me to come and resolve the issues. That's why I came," Shahryar told The Hindu.

Pakistan to push for T20 World Cup out of India

When asked if the Pakistani government has had enough, Shahryar said: "Well, yes, I have had inkling… they are saying, surely enough is enough."

Shahryar criticised BCCI for calling off the talks and International Cricket Council's decision to withdraw umpire Aleem Dar from the India-South Africa series. He said the Indian board "played into the hands of extremists."

Akram, Akhtar to be sent back to Pakistan over Shiv Sena threat

The Octogenarian also said that the Indian government failed to uphold the "law and order" after the Shiv Sainiks were allowed to "break into the BCCI office."

Further, he questioned the security provided by India to Pakistani nationals.

"What has happened to Ghulam Ali or Kasuri or Aleem Dar, or what might happen to us if we come here is a big question," he said.

"Previously, [the BCCI] used to say the border crossfire was the problem, or the situation in Pakistan was not good and it's not conducive for India to play there. Now, Pakistan is saying, how can it be conducive to playing in India, if there is this kind of anger."

Pakistan may boycott 2016 World Twenty20 in India: Zaheer Abbas

Shahryar said that Indian administrators were using excuses to cancel the scheduled December series as India was moving back from the MoU it had signed. "I would say the BCCI is hesitant to play Pakistan, even more than the government. They have shown no commitment to follow through on their own MoU, signed last year," he said.

"It looks pretty bleak for the series, and we may have to start all over again. We have signed an MoU, but it is falling flat… It seems we will not have the series, and India is reneging on its commitment," he added.

Islamabad will launch a diplomatic offensive against New Delhi and seek change of venue for the upcoming International Cricket Council's World T20 tournament scheduled to be played in India next year in the wake of security threats posed by Hindu extremist groups.

This article originally appeared on The Hindu.