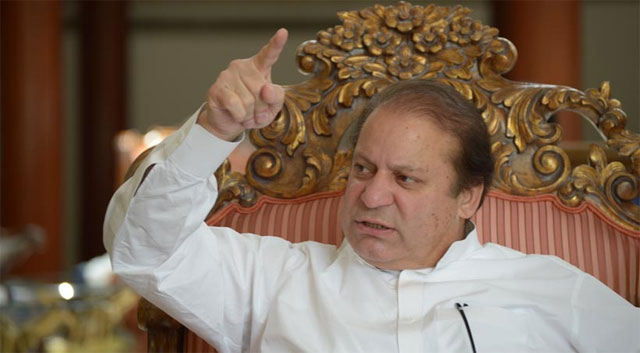 ---
ISLAMABAD:



Prime Minister Nawaz Sharif emerged as the most popular political leader with an approval rating of 75 per cent, according to a nationwide survey carried out by Pakistan Institute of Legislative Development and Transparency (PILDAT).




The survey conducted on the completion of the second year of the current parliament and the provincial assemblies shows that Punjab Chief Minister Shahbaz Sharif is not far behind his brother with an approval rating of 72 per cent.

Sharif, Sharif and us

PTI chief Imran Khan drew an approval rating of 49 per cent, while MQM chairman Altaf Hussain polled 13 per cent of the 3,231 respondents from a cross-section of incomes living in rural and urban areas of all the four provinces.

Around 27 per cent of the respondents of the PILDAT survey approved the leadership of Asif Zardari. PML-Q chairman Chaudhry Shujaat Hussain earned 19 per cent approval while ANP chief Asfandyar Wali followed with 18 per cent approval.

NA-122 by-election: Imran Khan dares premier to a face-off

Political parties

The Pakistan Muslim League-Nawaz (PML-N) had the highest approval amongst the population, with 70 per cent of the respondents rating the party's competence highly.

Its closest rival Pakistan Tehreek-e-Insaf (PTI) came a distant second with an approval rating of 44%. The Jamaat-e-Islami (JI) and the Pakistan Peoples Party came away with 40 per cent and 36 per cent approval, respectively.




The MQM emerged as the most negatively rated political party in the country with an approval rating of 14 per cent, even below the Dr Tahirul-Qadri's Pakistan Awami Tehreek (PAT) that polled 19 per cent.

Hail the new Troika!

The Awami National Party (ANP) picked up 21 per cent and the Jamiat Ulema-e-Islam Fazlur-Rehman (JUI-F) had only a slightly higher approval ratings at 23 per cent.

Quality of democracy

Around 66 per cent of the respondents approved of the overall quality of democracy in Pakistan.

Respondents gave 64 per cent approval rating to the independence of media, 56 per cent to the effectiveness of the Supreme Court and 52 per cent to democratic oversight of security set-up.

The brave General Raheel Sharif

Around 59 per cent of the respondents believe that the general election in 2013 was somewhat to completely transparent and fair. On the other hand, 30 per cent respondents see the election as somewhat to completely rigged.

Local governments

A substantial 80 per cent of the respondents say that holding local government (LG) elections nationwide are very important.

Testing times for Imran Khan's leadership

Only 11 per cent of the respondents believe that holding these elections is either not important or not important at all.

Published in The Express Tribune, October 20th, 2015.
COMMENTS (46)
Comments are moderated and generally will be posted if they are on-topic and not abusive.
For more information, please see our Comments FAQ