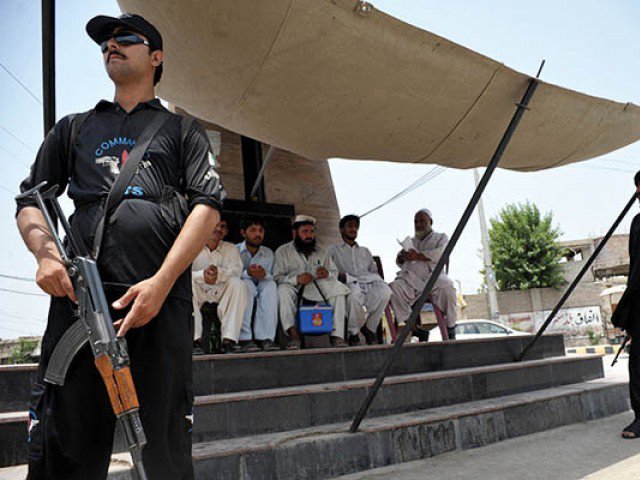 ---
KHAR: Unknown motorcyclists shot dead a polio worker in the Khar tehsil of Bajaur Agency, highlighting once again the threat that the campaigners face in their efforts to eradicate the disease.

Mir Wali Khan, a supervisor for the drive in the agency's headquarters Haji Lawang Kalay area of the tehsil was targeted outside his clinic on Sunday evening.

According to political tehsildar, Khar Faiz Muhammad, Wali was a medical technician and had earlier served at Agency Headquarter Hospital, Khar.

Wali also operated a private clinic in the area, added Muhammad.

Read: Bodies of kidnapped polio workers, police guards found in Zhob

Following the incident, officials of political administration launched a search operation and apprehended five suspects under collective responsibility clause of FCR.

In March, at least two polio workers and police personnel guarding them were killed, while another two were injured in separate incidents within a span of 48 hours in Mansehra and Bajaur Agency.

Pakistan, one of only three countries in the world still battling the disease, suffered a setback in its efforts to eradicate polio due to militancy in recent years.

At least 77 lives have been lost in militant attacks on immunisation teams since December 2012.

Read: One year on: Taliban 'ban' leaves over 150,000 at risk from polio

In 2012, 58 cases of polio were reported, much lower than the 154 reported in 2011. However, in 2012, Taliban imposed a ban on polio vaccination in North Waziristan, causing the number of cases to surge to 93 in 2013 and cross the 300 mark in 2014.

The group had claimed that healthcare workers were undercover US agents entering the region. As a result, vaccination teams were unable to reach any of the tribal areas within North Waziristan impairing much of the past efforts to rid the country of the disease.
COMMENTS
Comments are moderated and generally will be posted if they are on-topic and not abusive.
For more information, please see our Comments FAQ