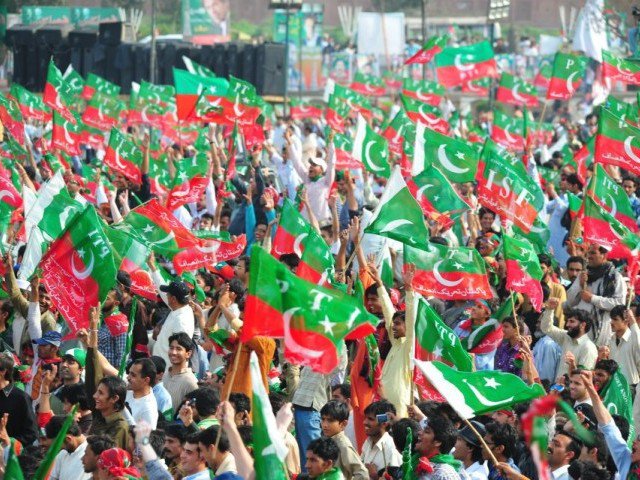 ---
There's a storm raging through the PTI's frozen heart.

Ever since Aleem Khan's defeat in the NA-122 by-election, the future of his party is under microscopic review. There is much that has gone wrong with its grand strategy. The PTI high command now looks back and sees the last two years littered with the debris of pious intentions. The dharna did not work out. The Judicial Commission did not work out. NA-122 and other elections did not work out. The party is struggling to find a message — any message — that finds traction.

Read: NA-122 by-election: Imran Khan dares premier to a face-off

Things are bad for the party. Seriously bad. But wait. Are we missing something here?

Imran Khan evokes strong emotions amongst the electorate: voters either adore him or loathe him — rare is one who is indifferent to him and his politics. He is measured against a higher scale than other politicians. He shouldn't complain because his own fiery rhetoric and high moral positioning is the cause.

This contrast with other politicians has served him well. He's the 'outsider', the 'non-politician' who has gatecrashed an elite club and flung open the doors for we the people to enter. He's the 'unpredictable' star who plays by his own rules; who incites passion where none existed; and who has redefined the traditional concept of politics. In short, Khan has revolutionised our socio-political thought process and redrawn the contours of our national agenda.

Read: Thin margin victory: PML-N reclaims NA-122




Imran Khan is, without doubt, a glorious change-maker. And a glorious failure.

He failed to win in 2013. He failed to rock the country with his protests. He failed to bring down the Sharifs with his dharna. He failed to prove his rigging charges. He failed to get his way in the Judicial Commission. He failed to win elections. He failed to halt the bloodletting within his party. He failed to make the Khyber-Pakhtunkhwa government a model to be emulated across the land. He failed to have a deep impact on national policy. He failed to perform in the National Assembly. He failed to get rid of the election commission members. And he may be setting himself for failure in the 2018 elections.

Read: Disgruntled members to take PTI to US courts

This is the conventional view. But it may not tell the whole story.

For that, let's rewind to October 30, 2011. It's a balmy evening at the Manto Park and Khan stands tall, surveying a crowd that is swelling like an angry ocean. Imran Khan's message has finally reached home. A new movement is born and it is straining to break out into the political arena to bring down the crumbling walls of privilege, patronage and personal aggrandisement.

Fast-forward to today. It's October 2015 and the walls of privilege, patronage and personal aggrandisement have not crumbled. Something somewhere went horribly wrong.

Or did it?

Read: PTI to take 'proof of changes' to ECP

Today Imran Khan's failure is measured against unrealistic expectations borne out of an ideological zeal. He promised things he could not deliver. His followers then magnified expectations by projecting their dreams and aspirations on him and him alone. Could one man shoulder the weight of so many dreams alone? Khan's strength became his weakness, but in reality it remains his strength: galvanising millions in search of their dreams for a better homeland.

But here's the catch: dreams may launch a revolutionary movement, they do not automatically translate into votes. For this to happen, a movement needs to evolve into a political party. Yes, a party that works the system; that adheres to the twisted rules of electoral politics; that embraces men and women with suspect credentials and solid vote banks; that learns to compromise every now and then.

In other words, to win power, the PTI must become more like the PML-N.

If it is already doing that, it is not a failure. It's a natural evolution.

Read: Boys who cry wolf

So let's not rake Khan over coals. Instead, let us readjust our analytical barometers and judge his actions afresh. Khan has been running since 2011. Now he must learn to walk, and then crawl.

What we are witnessing now is the not-so-gradual mainstreaming of Khan and the PTI. The party has gone through phases it needed to: from the domination of the ideological core to the entry of the traditional politician, leading to the inevitable conflict, followed by a fractious civil war and confusion over what the party stands for. Finally, with NA-122, the party is getting comfortable in its new mainstream skin.

It is a skin stitched together by the likes of Jehangir Tareen, Shah Mehmood Qureshi and Chaudhry Sarwar. These three are the architects of the new PTI; a party that is in the process of outgrowing its adolescent zeal and maturing into a standard, traditional, political party that accepts that its hunger to win is now stronger than its desire for change.

In its apparent failure then lies the PTI's ultimate win. Tareen, Qureshi and Sarwar have successfully re-engineered the party so it can win votes, not hearts. It's a new culture that is taking root inside a movement that is moving in a new direction. It is not an easy transition; and certainly a tortuous one for those who are still driven by passion, zeal and dreams. But it is a necessary transition if the PTI really wants to rule Pakistan one day.

Read: Daniyal serves legal notice to Imran

Does this mainstreaming come naturally to Imran Khan? No. Look at him and you can tell he is uncomfortable. He should be. The manipulative world of electoral politics is not his field of expertise. It shouldn't be. That's where his appeal lies.  But having gone through the highs and lows of the last few years, Khan is well aware that if he wants to beat Nawaz Sharif, he will have to become more like Nawaz Sharif. He also realises he cannot do that. But Tareen can. Qureshi can. Sarwar can.

So this then is the final end of innocence for the PTI: a party led by Khan but powered by these three gentlemen. Khan can keep harping on the rigging and the stealing of 2013 elections, and he can keep breathing fire like the Targaryen dragons, but as long as his three mainstreamers have their eyes set on 2018 instead of 2013, the PML-N should be afraid.

Dear Insafians, do not grieve over the death of dreams and the end of innocence, for therein lie the seeds of electoral salvation. Welcome to the world of grown-ups.

Published in The Express Tribune, October 18th, 2015.

Like Opinion & Editorial on Facebook, follow @ETOpEd on Twitter to receive all updates on all our daily pieces.
COMMENTS (45)
Comments are moderated and generally will be posted if they are on-topic and not abusive.
For more information, please see our Comments FAQ