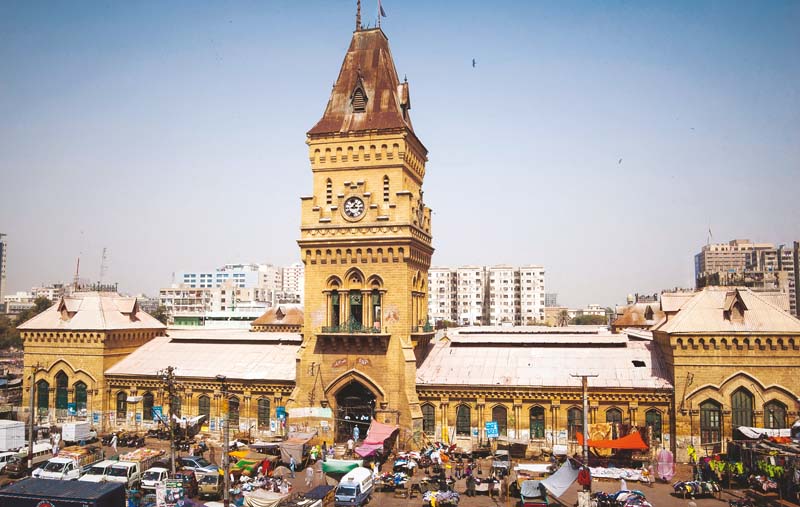 ---
A melodious voice drew me inside the colonial building. I followed the sound, dodging flies and quieting the urge to sneeze with the aroma of spices wafting up my nostrils. The sound grew louder as I walked over the broken white marble steps, now buried under years of dirt. I reached the centre of the market — the place where the rhythmic tone was emanating from. An elderly man sat in his jute and wood chair, periodically singing a jingle: "Chipkaliyon aur khatmalon ka sabsay takatwar dushman, money back guarantee kay saath, phir mat kehna nahi bataya!"(The most powerful enemy of lizards and bed bugs with money back guarantee, then don't say that no one told you about it.)




Like a teaser to a movie, this old man sets the tone for the shopping experience at Karachi's Empress Market.

The outside of this British-era building looks like the site of a turf war between political parties, with posters of various leaders shamelessly plastered at the entrance and party flags hoisted everywhere.

The political theatre is not the only thing that stops one from praising the regal exterior of this 19th Century building; sitting near one of the busiest intersections in Saddar, it is difficult to admire Empress Market with ancient public buses emitting smoke, small stall owners playing harsh audio recordings and the sun shining mercilessly.




However, all the noise and pollution begins to disappear in the background as you enter the gates. It's a pity that the glorious structure of our imperial past is abused everyday with no regrets; the Gothic-styled windows are cemented in the most unflattering manner and the green steel gates, which once marked the limits of this bustling marketplace, now stand ignored just like another accessory.

Despite its depleting magnificence, Empress Market continues to evoke romanticism and is visited by hundreds of customers and visitors daily. From spices, sandals to 'siri paye' — the market is a one-stop shop for everything needed to run a household.

An unending variety of red chilies, sacks full of multicolour pasta and dry fruits from across Pakistan are exhibited in its narrow lanes. The meat market — which gives the look of a warzone with blood splattered everywhere — supplies boneless chicken, cow tripe and goat liver six days a week. With the smell of raw meat deeply embedded in the nose, one enters the pet market only to have it replaced with the stench of bird droppings. Cats and kittens wrap each other in a furry display of affection while birds of all shades and sizes sit calmly inside their cages. Their neighbours — the otherwise restless bunnies — take an afternoon nap while their owner tries to sell his fancy cages to a foreign customer.




But just like a city, a market is defined by the people who run it and Empress has its own share of unique characters. As you stroll through the alleys sidestepping sunrays piercing through the tattered tents, you see shopkeepers impeccably dressed in shalwar kameez for Friday prayers, reading newspapers and churning out analysis fit for the 9pm telecast; beggars strategically positioned at all entry points to guilt trip buyers into handing out charity before they run out of money; tea boys run around ensuring smooth supply of caffeine and inside gossip and upset shop owners reprimanding reporters for filming TV packages on hiked prices in their midst.




The shopkeepers, like members of a sprawling family confined to the Victorian building, are the pulse of this historical landmark which — even after years of neglect — takes you a century back in time. With little attention and care, Empress Market could be a masterpiece on Karachi's heritage trail but maybe it is destined to be admired for being abandoned.

Ferya Ilyas is a senior subeditor at The Express Tribune. She tweets @ferya_ilyas

Published in The Express Tribune, Sunday Magazine, October 18th, 2015.