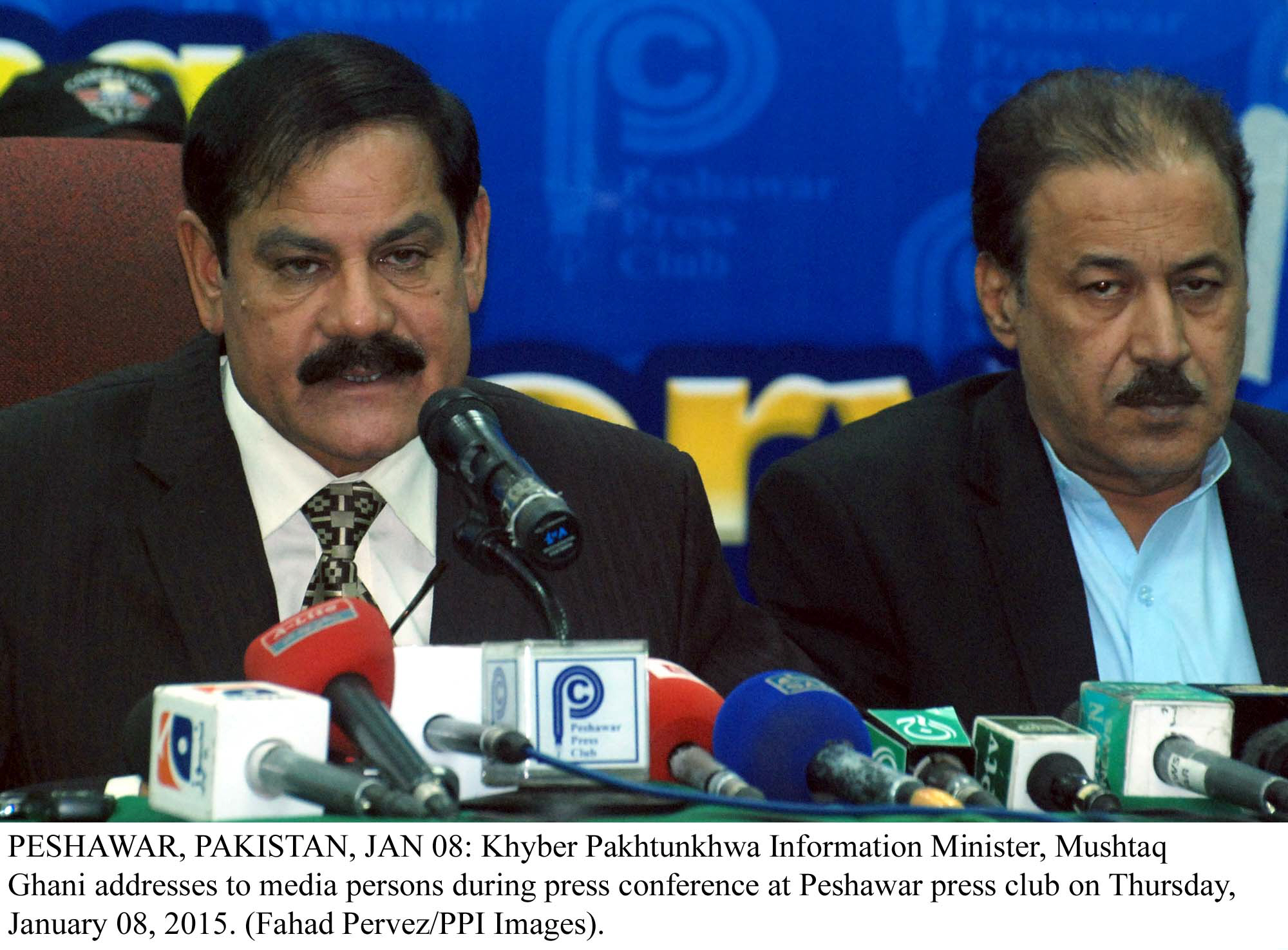 ---
PESHAWAR:



The provincial government has yet to decide who will vacate his or her seat to accommodate Qaumi Watan Party (QWP) legislators. Taking inspiration from a 'kaptaan' style of leadership, insiders say Pakistan Tehreek-e-Insaf ministers were asked to let a coin toss determine their future. However, it was reported the ministers declined and requested a proper discussion instead.




Minister for Higher Education and Information Mushtaq Ghani told The Express Tribune that after the 18th Amendment, it is against the law to have more than 14 members in the cabinet. He was justifying why PTI has to remove two of its ministers to accommodate its newest coalition partners.

"However, whoever is deseated from his or her position may remain as an adviser to the same ministry," said Ghani.

Read: Agreement signed: PTI welcomes QWP in K-P govt

An official privy to the development told The Express Tribune Ghani and Minister for Food Qalanadar Lodhi met Chief Minister Pervez Khattak and PTI Chairperson Imran Khan in Bani Gala on Sunday and spent hours discussing this matter.

The insider said, requesting anonymity, the high-ups wanted to take a decision by tossing a coin, however, members at the meeting urged them to discuss the matter with everyone.

During the meeting, the participants decided the QWP members, who had been previously removed from their ministerial seats on corruption charges, will be reinstated in the provincial government. Meanwhile, a PTI member will give up his or her seat to accommodate a new alliance member.

When asked about the status of his ministry, Ghani told The Express Tribune, "I will support whatever PTI decides regarding this issue."

The final showdown

The insider, however, said it will most likely be Ghani who will have to take the hit and give up his seat to accommodate QWP. "It is a tough decision; the PTI government will have to remove people from its own ranks to accommodate another party's worker," he said.

According to the insider, Minister for Irrigation Mahmood Khan and Lodhi were shortlisted earlier. However, because of their political relations, they are "safe". "Mahmood Khan is a strong supporter of the party which is why his name will be excluded from the list," he said. The senior member of the party said, Lodhi had a good relationship with the CM, which is why it is less likely that he will
be removed.

Muddy waters

When The Express Tribune contacted other PTI representatives, they said they had no information on the matter which was an "upper-level discussion".

PTI MPA Zareen Zia said she has no information regarding this development. Adviser to Chief Minister for Social Welfare Dr Mehar Taj Roghani also pleaded ignorance.

PTI MPAs Shah Farman and Shaukat Yousufzai could not be reached despite several attempts.

Monday, October 12, was supposed to be the day when the new cabinet was going to take oath. However, after Governor Sardar Mehtab Khan fell ill, it had to be postponed.

Published in The Express Tribune, October 13th, 2015.

 
COMMENTS (3)
Comments are moderated and generally will be posted if they are on-topic and not abusive.
For more information, please see our Comments FAQ