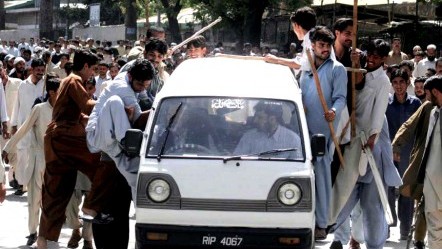 ---
PESHAWAR: A meeting between lawmakers from the Hazara division and provincial ministers of Khyber- Pakhtunkhwa on the renaming of the NWFP remained inconclusive and the two sides agreed to continue dialogue to resolve the issue.

The meeting was also attended by provincial information minister Mian Iftikhar Hussain and health minister Syed Zahir Ali Shah. The meeting of the 20 legislators from the five districts in Hazara was called to discuss the prevailing situation in the division which witnessed a wave of violence following the renaming of the NWFP as Khyber- Pakhtunkhawa in the 18th amendment. The Abbottabad district saw the worst on April 12, when around seven people were killed in clashes with police during protests. Tehrik Suba Hazara led by the Sardar Haider Zaman is demanding a separate province and announced a shutter- down and wheel-jam strike in the division on May 2. Meanwhile, other political parties and assembly members from Battagram, Kohistan and parts of Mansehra district have raised their voices for an Abaseen division.

The meeting discussed the situation of the Hazara division and decided to discuss the issue of making Hazara a separate province and Abaseen division in the provincial assembly. The meeting said that all the stakeholders would jointly strive to improve the law and order situation in Hazara. The meeting will continue today and will be joined by Khyber-Pakhtunkhwa Chief Minister Ameer Haider Khan Hoti.
COMMENTS (4)
Comments are moderated and generally will be posted if they are on-topic and not abusive.
For more information, please see our Comments FAQ