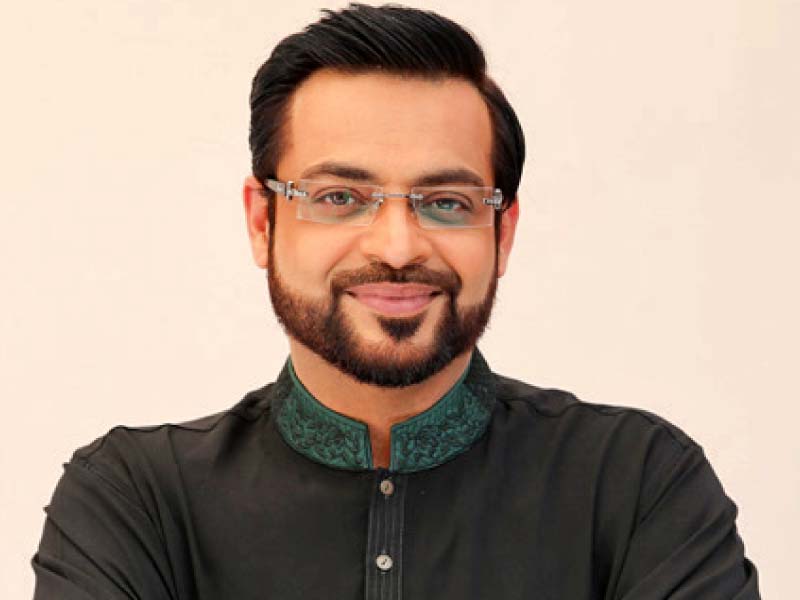 ---
KARACHI:



Internationally acclaimed broadcaster and religious scholar Dr Aamir Liaquat Hussain has been included in the list of the 500 most influential Muslim personalities for the third consecutive time.




Acknowledging his immense popularity, the world's leading research organisation Royal Islamic Strategic Studies Centre has included him in its list, which is an honour. In their catalogue introducing the personalities for the year 2015-2016, the organisation has paid glowing tributes to Dr Aamir Liaquat.

It has noted that Dr Hussain's name has been included in the list in view of his popularity, non-sectarian ideology, efforts to promote peace and tolerance, his campaign against corruption and his love for the Prophet of Islam (Peace be upon Him).

Declaring him one of the most famous hosts in the world, the book says Dr Aamir Liaquat rose to eminence with his famous show 'Aalim Online'. He became the most influential media personality and hosted the most popular TV shows due to his professional excellence and effective representation of the popular sentiments. In 2014, he was appointed as the vice president of a private TV channel.

Giving an overview of his background, the book says that Dr Aamir Liquat also took part in politics and served as a member parliament and federal minister for religious affairs. However, he resigned from politics in 2007 to give his full attention to his religious pursuits.

The Royal Islamic Strategic Studies Centre, which issues this list every year, is an independent organisation associated with Royal Aal Al-Bayt Institute for Islamic Thought. Located in Jordan's capital, this institute is engaged in research under the auspices of the royal family of Jordan.

In its latest list, Dr Aamir Liaquat Hussain tops the media persons that the organisation has chosen from amongst the Muslim world.

The other Pakistanis who have been counted among the influential Muslims include Army chief General Raheel Sharif, Prime Minister Nawaz Sharif, Dr Abdul Qadeer Khan, Imran Khan, Mufti Taqi Usmani, Tablighi Jamaat's chief Haji Abdul Wahab, Maulana Tariq Jameel, Dr Ahmed Rafiq Ahktar, Social worker Abdul Sattar Edhi, Maulana Fazlur Rehman, Mualana Ilyas Qadri, Sirajul Haq and Allama Tahirul Qadri. The list also includes Allama Sajid Naqvi, Maulana Saleem Ahmed, Prof Attaur Rehman, Dr Farhat Hashmi, Dr Khanum Tayyaba, Abida Perveen, Malal Yousafzai and Asma Jahangir. Junaid Jamshed, who was included in the list the previous year, did not figure in this year's list.

The list also includes Indian Muslims, including Maulana Mehmood Ahmed Madani, Dr Zakir Naik, Mufti Muhammad Akhtar Raza Khan Qadri, Allam Ziaul Mustafa, Maulana Waheeduddin Khan, Aamir Khan and Shabana Azmi.

The other personalities include Saudi Arabia's King Salman bin Abdul Aziz, Saudi Grand Mufti Sheikh Abdul Aziz, Sheikh Abdul Rehman al Sudais, Sheikh Mohammed bin Zayed bin Sultan Al Nahyan, Dr Mahathir Mohamad, Sheikh Muhammad Bin Nayef, Prince Salman Bin Abdul Aziz, Recep Tayyip Erdogan, Dr Shirin Ebadi, Muqtada al-Sadr,  Sheikh Yusuf al Qaradawi, Sultan Qaboos, Mahmoud Abbas, Ashraf Ghani, Sirajuddin Haqqani, Gulbuddin Hekmatyar, Sheikh Hasina Wajid, Hassan Nasrallah, Khaled Mashal, Dr Muhmmad Yunus, Muhammed Fethullah Gülen, Sayeeda Warsi and Sami Yusuf.

Published in The Express Tribune, October 4th, 2015.
COMMENTS (34)
Comments are moderated and generally will be posted if they are on-topic and not abusive.
For more information, please see our Comments FAQ