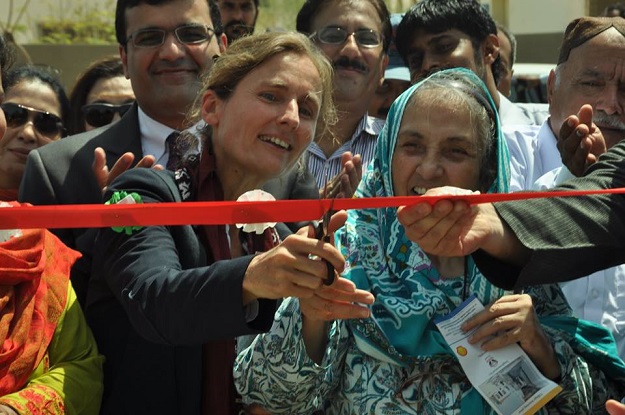 ---
KARACHI: Goth Noor Muhammad is just 25 kilometres from Karachi but apart from the Karachi Metropolitan Corporation (KMC) drivers no one else is  aware of how the people of this village survive. The entire village is dependent upon Karachi's garbage.

The village lacked all basic facilities such as health, education and potable water five years back. Despite living here for over 30 years, the residents have only recently been given access to the most basic of facilities, such as shelter, a school, health facilities, a water plant and clean streets.

The Pakistan Poverty Alleviation Fund (PPAF), in collaboration with Shell Pakistan and the Health and Nutrition Development Society (HANDS), on Tuesday celebrated five years of integrated development initiatives in this settlement where the KMC dumps around 25 per cent of the city's trash. This garbage is village's only source of survival.

Accepting the government's lack of interest in developing such settlements, federal state minister Abdul Hakeem Baloch said that the public-private partnership has changed people's standard of living. "The people living in posh areas aren't aware of the sense of deprivation that prevails in these villages," he explained.

"Nothing has been given to these people for last 65 years," Baloch said. "Let the world see how people live here. What they eat and how they earn."

PPAF CEO Qazi Azmat Isa still hopes for the best. "Pakistan is going through some very challenging times but hope continues to exist. It is only when people from different walks of life come together for the common good that magic happens."  While visiting the new facilities provided to the villagers, HANDS chief executive Dr Shaikh Tanveer Ahmed said this is first time in their life that these people will enjoy basic facilities.

In 2010, the PPAF and its implementing partner, HANDS, along with Shell, Pakistan began working in Goth Noor Muhammad to help residents change their lives for the better. As many as 133 housing and 34 sanitation units were constructed. The village divided into 51 clusters of two to three housing units, with each cluster having a common kitchen, toilet and a water storage tank.

Electricity and clean drinking water remained a major problem for the residents so the PPAF has recently installed solar-powered lights in each housing compound, while Shell installed a reverse-osmosis plant in the settlement to provide drinking water.

Over the past five years, PPAF has spent Rs27 million on housing, infrastructure, solar-powered lighting, health and education facilities, while Shell Pakistan has contributed an additional Rs14.3 million for housing and the provision of drinking water.

"It is a good work you have done. It is my first visit to Karachi and I am here with you," said Jeannette Seppen, ambassador of the Kingdom of Netherlands, to the women of the village. "The first task was to motivate the community. Converting this settlement into a model village wasn't an easy task. The infrastructure will change the living standard of these marginalised people living in Karachi's rural area," said the general manager of HANDS, Nadeem Wagan.

Published in The Express Tribune, October 1st, 2015.