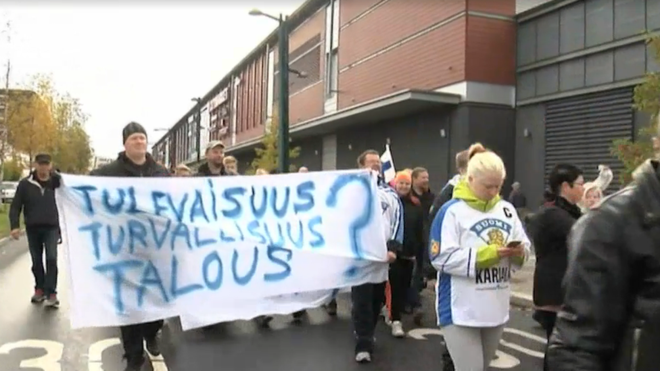 ---
HELSINKI: Finland's national ice hockey team on Monday appealed to anti-migration demonstrators to stop wearing its jersey, after several protesters were photographed in the team's fan gear in recent weeks.

"Our message is that fan jerseys belong in the stands and not at demonstrations," the Finnish Ice Hockey Association's communications manager Henna Malmberg told AFP.

Several anti-migration protests have taken place around Finland in recent weeks as the Nordic country struggles to deal with an unprecedented influx of migrants, arriving mostly from Iraq and Somalia.

Read: Migrant youth killed by Channel Tunnel train: officials

Finland has registered over 14,000 asylum seekers so far this year and expects a total of at least 30,000 by the end of the year - eight times as many as in 2014.

The largest protest took place in the town of Tornio on September 19 when hundreds of participants formed a "human barrier" on Finland's northern border with Sweden, where most migrants cross into the country.

A former goalkeeper for the national team, nicknamed the "Lions", was not impressed by fans using the blue and white national jersey as protest regalia.

Read: Under pressure: EU approves migrant deal amid opposition

"A reminder to the protesters in their Lion shirts. A Lion plays fair/hard on the ice. Elsewhere they're international and tolerant," Sinuhe Wallinheimo, who is now a member of parliament, tweeted on his personal Twitter account after the Tornio protest.

Some fans criticised the Association for not adopting a firmer anti-racist position.

But Malmberg said the national team did not wish to "mix sports and politics".

Last Friday, around 40 demonstrators - including one dressed in a Ku Klux Klan outfit - threw fireworks at a bus transporting asylum seekers to a new reception centre in the southern city of Lahti.

More anti-migration protests are being planned around the country for the weekend.
COMMENTS
Comments are moderated and generally will be posted if they are on-topic and not abusive.
For more information, please see our Comments FAQ