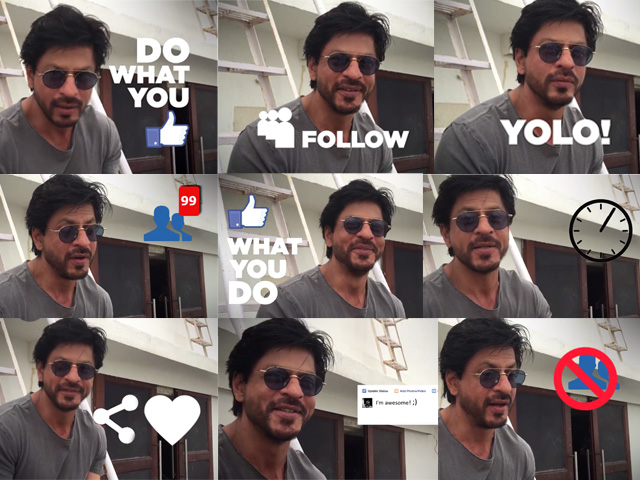 ---
King Khan rules hearts, he is the badshah of Bollywood and counting the number of his fans is next to impossible. The actor has crossed the 15 million mark on Facebook and celebrated the milestone by sharing special video message with all his fans.

"I've reached 15 million likes on Facebook, which is astounding, because there was a time when I could not interact with as many of you as I would have like to," he said in the video.




"But now, with just a click I can interact with millions of you. And that is quite a landmark for me. On this day, I have decided to give you some life-teachings," said the B-Town megastar.

To mark the occasion, he offered to teach 15 lessons to his fans, starting off with five in the video and promising to release 10 later on.

Here is what SRK thinks we've been doing wrong on Facebook:

1) Like

Not SRK's pictures and statuses! "Do what you like and like what you do" and if you do so, "success will follow you".




2) Friend requests

His second advice: Before clicking on the 'Add Friend' button, try to "be the person everybody wants to be a friend of". Now this doesn't mean you have to be a superstar like SRK. Just be yourself.




Caution: People who use words like 'SWAG' and 'YOLO' need to make a special note as there is a 100 per cent chance they will be "unfriended". Just to be clear, it's not us saying that. This is coming straight from King Khan!




3) Timelines

"Stick to timelines", with due respect to those who have no respect for other people's time.




4) Share

'If you share this 100 times God will give you a special reward' is a big NO, obviously. Share happiness and love, says the king of romance.




5) Status

Your social media status shouldn't reflect your social circle status. As Shah Rukh puts it, "Be nice and good to everyone."




Here's the the full video:


And stay tuned for more!
COMMENTS
Comments are moderated and generally will be posted if they are on-topic and not abusive.
For more information, please see our Comments FAQ