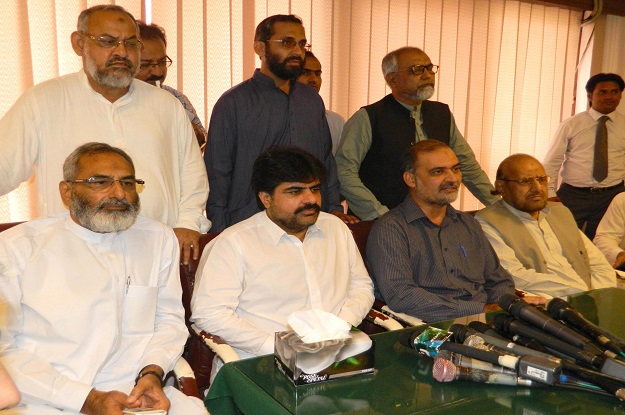 ---
KARACHI: The Pakistan Peoples Party (PPP) has started negotiations with Jamaat-e-Islami (JI) to form an alliance for the upcoming local government elections but a decision has yet to be reached, said Sindh local government minister Syed Nasir Shah on Friday.

"PPP believes in reconciliation policy and wants to make Karachi a city of lights with the help of other stakeholders," said Shah, addressing a press conference with leaders of JI at his office.

According to sources, the leaders of both the parties discussed upcoming local government elections but the minister and the JI delegation led by Hafiz Naeemur Rehman were of the view that the meeting discussed civic and development issues as well as the matters relating to encroachments in Karachi.




Referring to the Rs150-billion package announced by the PPP chairperson for Karachi, Shah said that JI is a major stakeholder and has rendered services for the city. "Therefore, we want to take them into confidence in development and civic issues," he said.

Muzaffar Hashmi, Muslim Parvez, Abdul Wahab, Engineer Sabir Ahmed and Zahid Askari were among the participants who represented JI at the meeting. "We asked the minister to give compensation to the victims of Gujjar Nullah," said Askari, adding that the issue of encroachment on the office of JI was also discussed and the minister assured that he would take action to comply with court orders.

"Our office located in FB Area has been illegally occupied by some elements who have also established a marriage hall near it," said Askari. "The Sindh High Court has ordered to evacuate the occupation but all in vain."

When asked about his party's decision to make an alliance with the PPP in Karachi for the upcoming elections, Askari said that they have already formed alliance with the PPP and five other parties in Hyderabad division and PPP leaders have approached them to continue with the same kind of alliance in Karachi but a decision has yet to be made.

Published in The Express Tribune, September 19th,  2015.