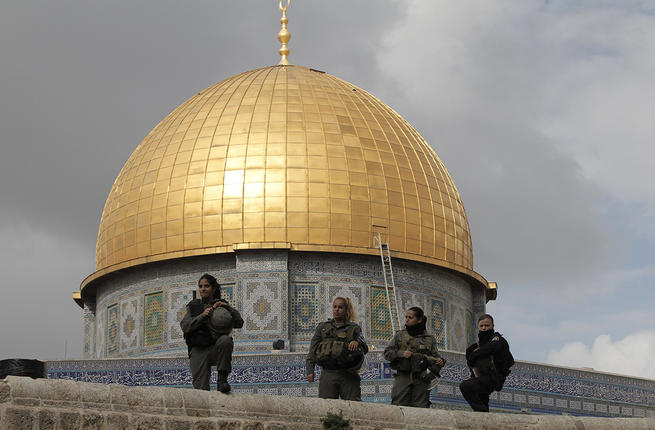 ---
JERUSALEM: Israeli police beefed up their numbers in Jerusalem Friday, barring young men from prayers at the Al Aqsa mosque site ahead of what Palestinian movement Hamas dubbed a "day of rage".

Palestinian protesters have clashed with police at the sacred site for three days over this week's Jewish new year in spite of international calls for calm.

"In light of intelligence received indicating the intention of Arab youths to disturb the peace at Friday prayers on Temple Mount it was decided to limit the age of Muslim worshippers," said a police statement, using the Hebrew term for the hilltop sacred to both Jews and Muslims.

"Men aged 40 and above and women of all ages will be permitted to enter for prayers," it said.

The measure is meant to deter the presence of Palestinian youths who are generally at the forefront of violent protests against what they see as increasing Israeli encroachment at the compound.

Read: Israeli PM announces tougher penalties against stone throwers

Hamas had called for a "day of rage" to coincide with weekly Friday prayers.

Israeli authorities fear further trouble with the approach of more religious holidays. The Muslim feast of Eid al Adha coincides on Wednesday with the solemn Jewish fast of Yom Kippur.

Jews begin their seven-day Sukkot festival the following week, one of the holidays when more Israelis than usual are likely to visit the compound.

It is the most sacred site in Judaism, with Biblical tradition identifying it as the site of the first and second temples, destroyed by the Babylonians and the Romans.

Known to Muslims as Al Haram al Sharif (the Noble Sanctuary), the compound houses the famous golden Dome of the Rock shrine and Al Aqsa mosque.

Believed to be where the Prophet Muhammed (pbuh) made his night journey to heaven, it is the third-holiest site in Islam after the Grand Mosque in Makkah and the Prophet's (pbuh) Mosque in Madina, both in Saudi Arabia.

Jews are allowed to visit but cannot pray there to avoid further raising tensions.

A small but vocal Israeli minority, among them cabinet ministers, are demanding that Jewish prayer be allowed.

Israel seized east Jerusalem, where Al Aqsa is located, in the 1967 Six-Day War and later annexed it in a move never recognised internationally.

It claims sovereignty over the entire city, including holy sites.

To the Palestinians, who claim the mainly-Arab eastern side as their capital, the compound with its landmarks is a potent symbol of so-far unrealised statehood.

They fear Israel will seek to change rules governing the site, with far-right Jewish groups pushing for more access and even efforts by fringe organisations to erect a new Jewish temple there.

Read: UN Security Council urges calm, restraint at Al Aqsa

Israeli Prime Minister Benjamin spoke by phone to United Nations Secretary General Ban Ki-moon on Thursday night seeking to calm such concerns and pledging that the Jewish state "is strictly maintaining the status quo," Netanyahu's office said.

Israeli officials accuse the Palestinian leadership of fanning the flames with incendiary remarks against Israelis.

"Al Aqsa is ours, the Holy Sepulchre is ours," said Palestinian president Mahmud Abbas this week.

"They do not have the right to pollute them with their dirty feet, we do not allow them and we will do everything possible to protect Jerusalem."

Netanyahu has publicly "declared war" on those who throw rocks and petrol bombs, and became even more adamant after an Israeli motorist died at the wheel on Sunday night, apparently as a consequence of Palestinian stone-throwing, police said.

One proposal is to let snipers with relatively low-velocity 0.22 calibre rifles operate against stone-throwers in Jerusalem, as they already do in the occupied West Bank.

Justice ministry spokesperson Moshe Cohen said that was one of a raft of suggestions currently under scrutiny by legal experts ahead of a government decision.

"The steps include changes to the rules of engagement and use of weapons which are not normally used within Israel," he told AFP. "All those things are on the table."

Israeli-driven vehicles are frequently pelted with stones where Jewish and Arab neighbourhoods rub up against each other.

An Israeli bus was stoned and torched Thursday night in east Jerusalem, its Arab driver escaping uninjured, police said.

Netanyahu is proposing measures including changing the circumstances under which police may use live fire, minimum sentences for stone-throwers and penalties against the parents of young suspects.
COMMENTS
Comments are moderated and generally will be posted if they are on-topic and not abusive.
For more information, please see our Comments FAQ