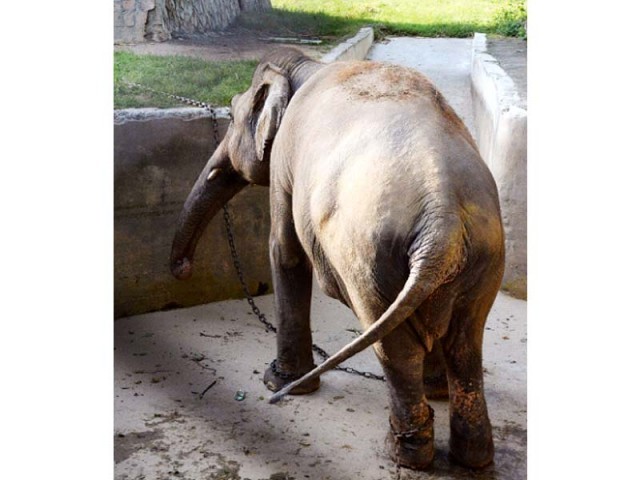 ---
ISLAMABAD: An international campaign to free an Asian elephant — chained and kept in solitary confinement for years at Islamabad Zoo — intensified after animal rights activists announced they would approach international leaders to intervene after the lackadaisical response from the Pakistani government.

The CDA management – specifically the environment wing, which oversees affairs of the zoo – has remained indifferent to thousands of appeals lodged by animal lovers through emails sent to the authority's chairman, as 31-year-old Kaavan remains chained and alone.

An online petition, which has collected 167,000 signatures since launching 20 days back, demands that the CDA release Kaavan to an elephants' sanctuary.

Despite the hue-and-cry raised by animal rights activists from across the world, three of Kavaan's legs are still in chains.




"We are asking for people's opinion at our UnChain Kaavan page on Facebook on whether both President Obama and [Democratic Party presidential contender] Hillary Clinton should be addressed, besides others, in our future emails about the issue," said animal rights activist Pu Waugh, who is spearheading the campaign.

"President Obama has personally taken an interest in documenting the cruelty towards elephants in the world, including poaching for ivory, and in zoos and circuses. He is working with world leaders to ban the ivory trade and wants every bit of information he can get about cruelty towards this species," Waugh added.

He said if you look at Clinton's latest agenda, she has also voiced concerns over elephant poaching.

"The wildlife spokesperson who spoke with me mentioned that they have been contacted by Clinton's staff to let them know her interest in saving elephants and lending her voice to the cause," Waugh informed.

Meanwhile, a number of administrations running elephant sanctuaries across the world have also volunteered to relocate Kaavan to their sanctuaries.

Several celebrities including Grammy-nominated Cuban singer María Conchita, American actor Patrick Muldoon, and Canadian writer-activist Tarek Fatah have also endorsed the petition.

CDA's stance

CDA environment member Mustafain Kazmi said the world should pay closer attention to the Syrian crisis instead of one elephant in a Pakistani zoo, elaborating that he had recently visited a zoo in China where the elephants were also chained.

CDA spokesperson Ramzan Sajid said CDA Chairman Maroof Afzal had categorically directed the zoo management to remove all of Kaavan's chains while chairing a meeting a few days ago.

"I cannot comment on why the zoo management is reluctant to comply with the orders," Sajid said, adding that the CDA was mulling whether or not to send Kaavan to Lahore Zoo.

Published in The Express Tribune, September 18th,  2015.