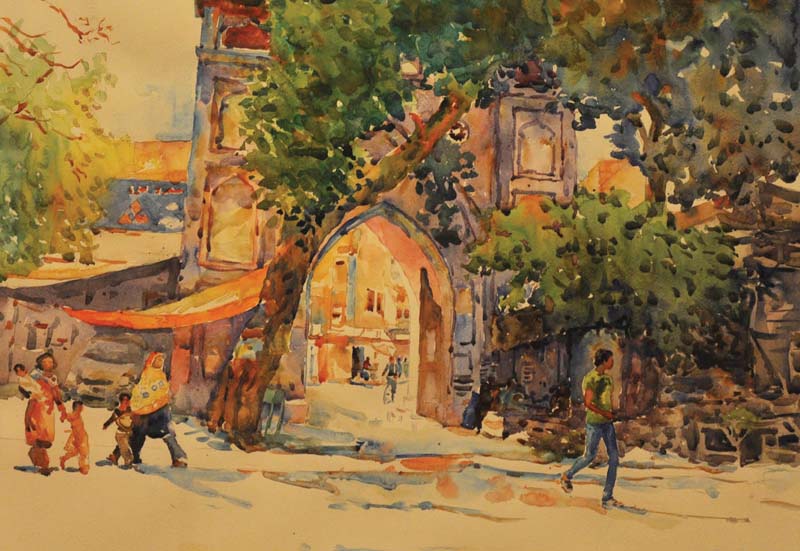 ---
LAHORE: An art exhibition featuring the work of eminent artists opened on Thursday at the Minhas Art Gallery of the Government College University, Lahore.

Vice Chancellor Prof Dr Hassan Amir Shah and artist Dr Ajaz Anwar, an old Ravian, inaugurated the event.

The exhibition depicts the chronology of changing trends, techniques, philosophy and the use of technology in the field of fine arts, especially painting. "The Minhas Art Gallery has brought the history of fine arts in Pakistan under one roof. The exhibition houses the classical paintings from 1960s to latest modern digital paintings of 2015," said Amna Anwar, a Fine Arts Department faculty member.

Artist Haseebullah Waqar said that technology had suppressed innovation in young artists who now relied more on software applications than their personal ability and imagination. "Computers are fast, but they cannot replace ingenuity," he said.




GCU Quality Enhancement Cell Director Iram Sohail termed the exhibition a mini art world. "Calligraphy, ceramics, oil painting, digital painting, graphic designing and photography work is on display at the exhibition. Every painting depicts a complete story," she said.

Dr Ajaz Anwar said that fine arts education was important as it gave the students motivational tools to unlock a deeper understanding of their education and their lives. Anwar said that he was one the first fine arts student at the GCU back in 1961 and Prof Aslam Minhas was his teacher.

He praised the young artists whose work was on display. "They are working on a variety of subjects and mediums from oil paintings to ceramics," he said.

The vice chancellor appreciated the artwork on display and hoped that it would motivate and inspire young students.

Giving details of the exhibition, Erfanullah Babar, the GCU Fine Arts Department in charge, said that work of 22 GCU alumni was on display at the exhibition. "The artists include Prof Ghazanfar Ali, Dr Shaukat Mahmood, Dr Ajaz Anwar, Prof Abid Hussian Qureshi, Jamil Hussain, Khalid Mahmood and Haseebullah," he said.

Rida Butt, a fine arts student, said that every painting was unique. "It can take months to completely understand the philosophy behind an art work. Students are inspired from the work of their seniors," she said.

The exhibition also features work by emerging artists Zahirudin Babar, Tahir Ali Sadiq, Imran Mudassar, Muhammad Sulaiman, Bilal Jilani, Masood Khalid, Abdullah, Haroon Mughal, Jameel Hussain, Bilal Khalid, Moiz Ahmad, Naveed Amjad and Bilal Jaffary. The exhibition will remain continue till October 16.

Published in The Express Tribune, September 18th,  2015.