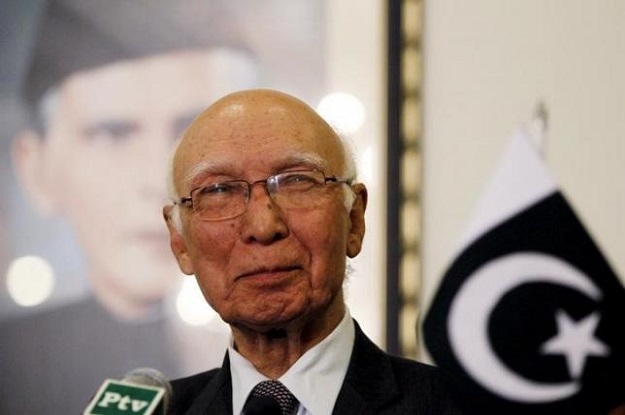 ---
Adviser to the Prime Minister on National Security and Foreign Affairs Sartaj Aziz said on Thursday Pakistan would raise the issue of Kashmir as well as the India's interference in the country at the upcoming UN General Assembly session in New York.

Speaking in the Senate, Aziz said Pakistan had prepared a formal dossier regarding Indian interference in the country, Radio Pakistan reported.

India resorted to violations on the Line of Control (LoC), despite a recent meeting between DG Rangers and Border Security Force chief, he added.

The adviser on foreign affairs once again reiterated that whenever dialogue with India resumes, the two countries will discuss all issues including Kashmir.

"There can be talks on all issues but no issue would be discussed in isolation on India's demand."

This year's UN General Assembly session is scheduled to begin on September 28.

Read: India promoting terrorism in Pakistan: Sartaj Aziz

Explaining about the premier's visit, Aziz said he will co-host the UN Peacekeeping Summit as Pakistan is one of the largest contributor to UN peacekeeping operations.

"I will also attend a roundtable on South-South Cooperation being hosted by the Chinese president," he said.