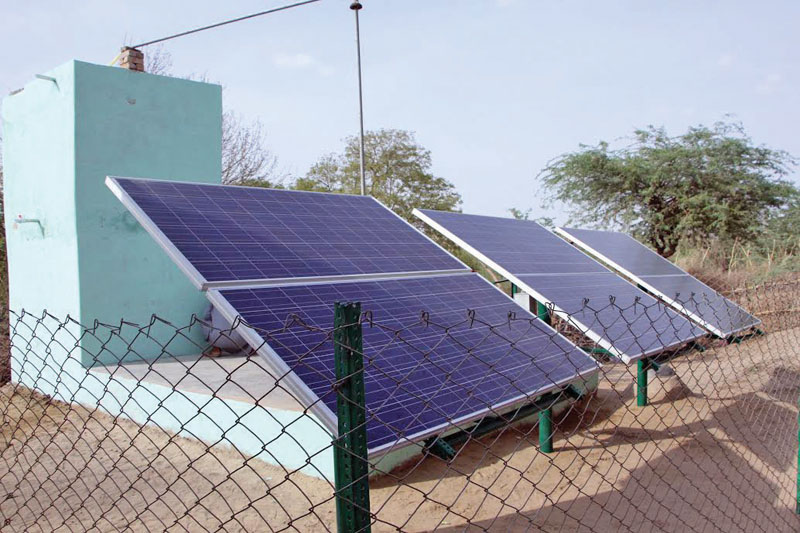 ---
NATHIAGALI: For the past year, a steady stream of villagers has been visiting Muhammad Naeem's home in this quaint mountain town in Pakistan's northwestern Khyber-Pakhtunkhwa province.

They come for one reason: to see for themselves the benefits of his solar water heater.

"A solar geyser does not cause respiratory diseases, it reduces the burden of firewood collection, and it gets rid of kerosene expenses," the roadside shop owner, 35, tells curious visitors. "My wife no longer burns fuelwood to heat water for cooking, bathing, and washing dishes or laundry."

First introduced to Nathiagali six years ago, as part of an initiative by the World Wide Fund for Nature - Pakistan (WWF-Pakistan), roof-top solar water heaters are gaining popularity among the area's villagers as a cheap, easy, and green alternative to wood and kerosene.

The process

The heating systems comprise of a set of water-filled solar tubes, called collectors, connected to an insulated water tank above them.

The tubes absorb sunlight to heat the water inside them. As it heats, the water rises into the storage tank. At the same time, cooler water from the tank flows into the collectors to be heated, keeping hot water circulating through the system.

The units require no electricity to run, making them an affordable, convenient option for communities not on the power grid, experts say. Because they produce no smoke or fumes, solar heaters cut down on the respiratory illnesses associated with burning wood and kerosene.

And, crucially, the heating systems help conserve the trees in Nathiagali and three other towns surrounding Ayubia National Park, an area that is home to 4,000 families, most of whom rely on the local forests of oak, cedar and coniferous pine for fuel.

Cost and benefits

Soon after the technology was introduced, "villagers started visiting our office to enquire about costs, health benefits, technical specifications, and the sustainability of these solar geysers," Waseem said. "Soon we started seeing a rise in the number of clean energy geysers being installed by the villagers themselves."

Azmat Khan, a wholesale solar heater dealer in Islamabad, says that while consumers might balk at the Rs47,000 ($450) price tag of a solar water heating unit, it can ultimately be cheaper than using wood or kerosene.

"While solar water heaters do tend to be more expensive upfront, in the long run they can save you a great deal on your monthly energy costs," he said. 

Published in The Express Tribune, September 16th,  2015.

Like Business on Facebook, follow @TribuneBiz on Twitter to stay informed and join in the conversation.
COMMENTS (2)
Comments are moderated and generally will be posted if they are on-topic and not abusive.
For more information, please see our Comments FAQ