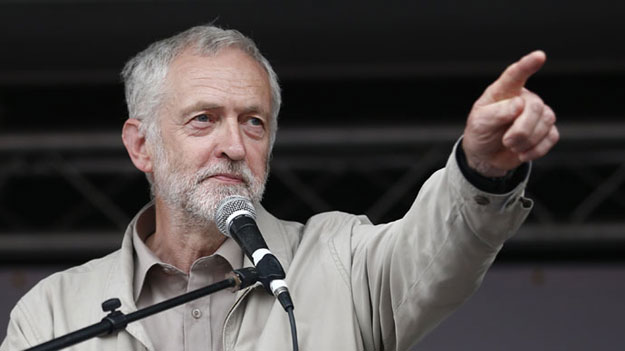 ---
Newly-elected Labour leader and next possible UK prime minister Jeremy Corbyn visited Karachi almost a decade ago, a picture of which has started to make the rounds on social media recently.

Corbyn's stunning election as leader of the British Labour party made headlines across the globe after the "backbench MP" won with nearly 59.5% of first-preference votes.

What was more remarkable about his win was that initially, the odds of him winning were around 100-1, according to The Guardian.

Of course, social media had a lot to do with the underdog's rise with many memes and parody accounts, and a worldwide trending hashtag dedicated to the man.

Among all the tweets, a photo (taken by Foqia Sadiq Khan) of Corbyn on a rickshaw in Karachi has also surfaced on social media.

Corbyn visited Pakistan in 2006 during General Musharraf's reign to attend a World Social Forum (WSF).


Guess who's enjoying #Rickshaw ride in #Karachi?
Yes, @JeremyCorbyn!@UKLabour leader/possibly next #UKPrimeMinister! pic.twitter.com/eWdhAosZjJ

— Adil Najam (@AdilNajam) September 13, 2015


Read: Corbyn win shakes up UK Labour as Blair's shadow fades

During his stay in Pakistan, he also attended a debate on Kashmir and interacted with Pakistani Union groups, landless peoples' movements, peace organisations and womens' rights organisations.

"Pakistani progressive groups, having endured years of military Governments, have welcomed and used the democratic space of the WSF to push their causes," Corbyn wrote later in an article on his trip to Pakistan.

The Labour party leader also wrote about his experience in Karachi, "There is a wonderfully tolerant atmosphere in Karachi. On Saturday evening three of us were recording an hour-long discussion programme in the open about the WSF. We stopped the discussion many times to allow for a landless peoples march to go by, the prayer call and a demonstration by people from Balochistan."

Corbyn, known for his anti-war stand, also criticised Musharraf government's policies, writing, "Ordinary people and organised workers pay the price of the Government's support for the US policies in Iraq and Afghanistan."

According Corbyn, who supports socialist ideologies, WSF was a fascinating phenomenon. "It has successfully brought together huge numbers of people from the political Left, the Trade Unions and a bewildering variety of social causes. It gives real bite to the cause of internationalism by giving space to people who would not otherwise have it."

"This forum, like the huge one in Mumbai two years ago is filled with the very poorest landless people hoping for support and desperate for change. These people are the victims of oppressive Governments, unfair land ownership, and the cruelty of World Trade Organization policies," he added.

Corbyn was elected leader of Britain's Labour Party and opposition leader on September 12, 2015 after a campaign driven by protest groups and trade unions. He comfortably beat the more centrist Yvette Cooper, Andy Burnham and Liz Kendall -- who all had far stronger support from fellow Labour MPs.

Corbyn electrified Labour's leadership race, which was triggered by the resignation of Ed Miliband after he lost May's general election to Cameron's pro-austerity Conservatives.

In his victory speech, Corbyn slammed Prime Minister David Cameron's centre-right Conservatives for presiding over "grotesque levels of inequality" and for creating "an unfair welfare system".

Read: Labour selects son of a Pakistani bus driver to stand for London mayor

The veteran member of parliament has said he will oppose Britain joining in air strikes against the Islamic State group over Syria and has been ambiguous about his stance on an upcoming referendum on Britain's EU membership.

Addressing tens of thousands of people at a pro-refugee rally in London later on Saturday, Corbyn alluded to Cameron's reference to air strikes as part of the solution to the migration crisis.

"Surely our objective ought to be to find peaceful solutions to the problems of this world," said Corbyn, to huge cheers.
COMMENTS (4)
Comments are moderated and generally will be posted if they are on-topic and not abusive.
For more information, please see our Comments FAQ