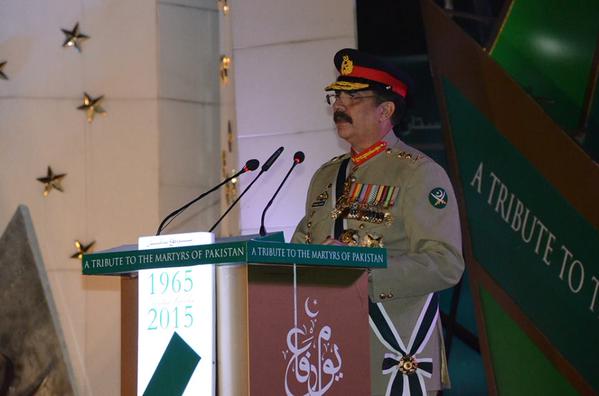 ---
RAWALPINDI: Chief of Army Staff (COAS) General Raheel Sharif has said Pakistan Army is capable of responding to an invasion by any external force. 

"If the enemy ever resorts to any misadventure, regardless of its size and scale, it will have to pay an unbearable cost," he said while addressing a special ceremony to celebrate Defence of Pakistan Day at GHQ in Rawalpindi on Sunday.

The army chief said Kashmir was an unfinished agenda of Partition and that peace in the region hinges on the resolution of the Kashmir dispute.

"Without resolving Kashmir issue according to aspirations of Kashmiris, peace in region is not possible," he said.

Read: Pakistan observes 50th Defence Day

A number of civil-military leaders, artists, families of martyrs, former army cheifs Aslam Baig, Parvez Kayani were present at the Defence Day ceremony to pay homage to the sacrifices of Pakistan Army in 1965 war.




"The APS attack was the worst example of brutality and tyranny," said the army chief, while paying tribute to the martyred students and lauding the patience of their parents. He said nearly all terrorists involved in this incident had met their fate.

General Raheel went on to add that Operation Zarb-e-Azb started at a time when chaotic forces were challenging the state of Pakistan and law and order situation in the country was at its lowest ebb.

He also commended the media for playing a key role in war against terrorism by exposing real face of terrorists. He urged all state institutions to play their due role to make this success complete and durable so that the objectives of the National Action Plan will be achieved soon.

The army chief renewed his resolve that they will take the financiers, abettors, facilitator and sympathysers of terrorists to the task.