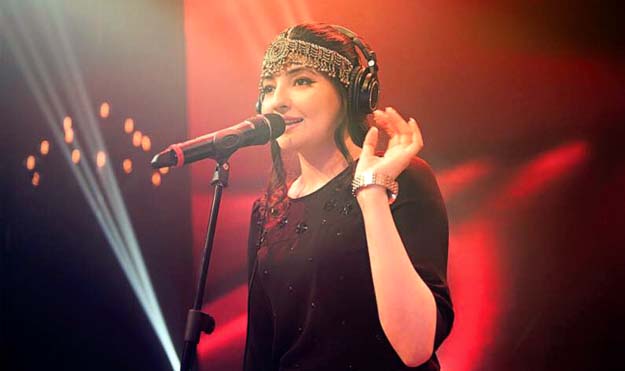 ---
KARACHI:



Next time someone returns from Peshawar, you should ask for a lot more than just kamiz tor (black kameez) and taza taza guloona (fresh flowers).  Not that fresh flowers of the city have lost their fragrance but because another 'Gul' from the city has blossomed in the garden.




Gul Panrra pronounced Gul Paraaan and not Paan-raa, made her Coke Studio debut in a duet with Atif Aslam. Her sharp ethnic features, enhanced by the traditional matha patti, have made people go crazy about her looks rather than the song, as she basks in the success of her stint.

"I had sent the Coke Studio people a picture of exactly what I wanted to wear during my performance," Panrra tells The Express Tribune. "I wanted to bring forward the delicacy of traditional Pukhtun features and merge them with our ostentatious styling sense."

She may have been introduced to the Pakistani audience through the show but Panrra is not a newcomer in the regional music circuit. She is one of the most sought-after female performers in Khyber -Pakhtunkhwa and Afghanistan and has extensively toured Pukhtun dominated areas across the world.




Daughter of a tabla player, the 24-year-old started singing four years ago after overcoming many hurdles from with in the family. "Pukhtuns are generally a little conservative and so is the case with my family. My father wasn't as strict but my mother still has a lot of issues with my music career. I hope the performance with Atif Aslam melts her heart," she laughs.




 Man Aamadeh Am is a cover of a Googoosh song of the same name and the melody and lyrics are so intertwined within the cultural fabric of Pakistan that to date, this song is played at weddings in Balochistan.

"Singing  Man Aamadeh Am was definitely a huge responsibility for me and I think I did a fairly decent job," says Panrra.  "I liked the overall sound of our song but the general consensus has been that it became bland towards the end, when Atif takes it into another dimension."




So far known for performing live and on TV shows, Panrra first experience of recording in an elaborate live set up was Coke Studio and she learnt a lot from everyone, especially Atif.

"Atif turned out to be the polar opposite of what I had imagined him to be. He has no attitude issues at all and he very humbly listened to what I had to say and then we helped each other out to improve the song. It was an amazing experience."

It's been only a few days since her song was released and she is already flooded by offers to perform live, collaborate with other artists and a few international tours. Coke Studio was her dream-come-true as she suggests during the interview but for now she wants to make the best of this launch pad by thoroughly analysing every opportunity that comes her way.

"Being a well-known face and a woman in our society can prove to be deadly combination; both metaphorically and literally," she smirks, adding "especially if you're known for something as controversial as singing or dancing and that too in a Pukhtun society."

That is perhaps why Panrra completed her Masters in Social Sciences from Peshawar University before taking up a career that she is more passionate about than certain. And incidences like the murder of a widely followed female singer Ghazala Javed in 2012 often make her realise the importance of having a back up option.

"Though she was killed for different reasons but you're right, it can happen to anyone and any time," says Panrra on a serious note. "Any female singer hailing from K-P will face a number of threats, needless interference from parents and other factors that a female singer from elsewhere won't. It comes with the territory, either face it or don't embrace it."



Published in The Express Tribune, September 3rd, 2015.

Like Life & Style on Facebook, follow @ETLifeandStyle on Twitter for the latest in fashion, gossip and entertainment.
COMMENTS (11)
Comments are moderated and generally will be posted if they are on-topic and not abusive.
For more information, please see our Comments FAQ