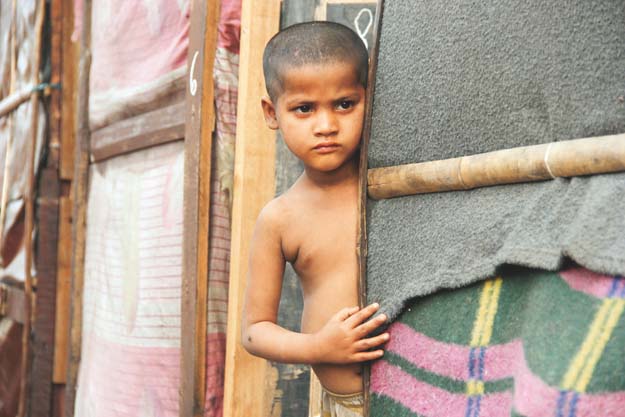 ---
The sound of the killings dogged 44-year-old Khadijah Banoo as she fled from her village of Taammi Cheung in Myanmar on that night in September 2012. She held the hands of her three daughters and son, dragging them with her as she ran, desperate to flee the violence that had made her a widow. She crossed the border into Bangladesh in October and for 10 days, trekked through Ramu, a town in south-eastern Bangladesh. From there, she travelled to India and pinned her hopes on the United Nations High Commission for Refugees (UNHCR) for getting refugee status.


Khadijah and her children are members of Myanmar's 1.3 million-strong Rohingya population. A Buddhist majority nation, Myanmar officially recognises 134 ethnicities, but the Rohingya Sunni Muslims are not part of this group. The United Nations considers them the most persecuted minorities in the world, as the government in their home country refuses to recognise them as citizens. According to a law passed in 1982, the Myanmar government categorises the Rohingya as illegal migrants from neighbouring Bangladesh. There are more than 200,000 Rohingya refugees currently living in Bangladesh, but the country refuses to claim them as its own. Thus, the Rohingya are caught in a grey area between nations, scrambling for survival during what Human Rights Watch (HRW) calls 'an ongoing ethnic cleansing'.

Who are the Rohingya?

The plight of the Rohingya is not new. According to a 2013 report by the non-profit Physicians for Human Rights, more than 260,000 Rohingya fled Myanmar between May 1991 and March 1992 over "human rights abuses committed by the Burmese military, including the confiscation of land, forced labor, rape, torture, and summary executions". Following Myanmar's transition from military-led government to rudimentary democracy in 2010, the government has turned a blind eye to the activities of the '969 movement', an extremist group of Buddhist monks. According to a 2013 Reuters report, the 969 movement is led by a monk named Wirathu, a man who calls himself 'the Burmese bin Laden' and who calls for a boycott of Muslim-run shops and mosques (called 'enemy bases').




Since 2012, an estimated 140,000 Rohingya have fled Myanmar. Massacred, imprisoned and excluded from the official census in Myanmar, the Rohingya have been refused asylum in Malaysia, Indonesia and been subjected to human trafficking in Thailand. According to some estimates, 280 Rohingya have been killed in the last three years and more than 140,000 have been forced from their homes. Myanmar's Rohingya have been ghettoised in camps outside Sittwe, the capital of the western Rakhine state.

It is believed the Rohingya are descendants of Arab traders. However, Myanmar's government disagrees. "Rohingya are neither Myanmar's people nor Myanmar's ethnic group," the consul general, Ye Myint Aung, reiterated to The Express Tribune. Today, Rohingya live in exile in Pakistan, Malaysia, Bangladesh, and Thailand. Saudi Arabia, however, is home to the highest number of Rohingya refugees, with roughly 33% of those who have fled Myanmar living there.

Life in India

Khadijah and her children live with 121 other Rohingya families in New Delhi in the Kalindi Kunj area, which lies at the juncture of the New Delhi–Uttar Pradesh border. So far, 6,000 Rohingya refugees across India have been registered by the UNHCR and 4,500 of them have received official documentation of this new status.

Sitting inside a dimly-lit makeshift tent in the camp where she lives, Khadijah is closely watched by male members of her community as she speaks to me. "My husband would be taken for forced labour by government forces in our home in Myanmar," she recounts. "One day, when he resisted, they beat him savagely." Just weeks before she fled her village, her husband, 43-year-old Abdur Gaffar was picked up for labour duty and never came home. She believes he was killed by government forces.

Soon after, police officials began harassing Khadijah's daughters. "They threatened us," she says. "The men in uniform would often show bad intentions towards my daughters." Fearing for their safety, Khadijah decided to run. Her fears were not misplaced. In February 2013, 13 women, including teenagers, were subjected to prolonged rape by Burmese security forces in a village in the western state of Arakan. All the women were Rohingya. HRW states that such sexual violence against Rohingya women is common, while prosecutions for rapes committed by security forces are rare. "I preferred exile for the sake of my daughters, even though I was unbearably scared," explains Khadijah.




The patch of land in Kalindi Kunj where Khadijah now lives was given to the refugees by the Zakaat Foundation of India, an organisation that has been helping them since March 2012. To the left of this settlement is Darul Hijrat, where another 61 families live. Inside the makeshift camps, young men spend their days loitering or waiting for work, while the women remain indoors. Half-naked children dart around the camp and the elderly are confined to their beds.

Twenty-eight-year-old Mohammad Sarafaz, who lives in the camp, is among a handful of literate residents here and has worked as an interpreter for the UNHCR. He calls the treatment of his people a 'planned genocide'. "The government in Myanmar totally curbed our movement," he says. "They imposed taxes on anything we owned. We were deprived of the right to vote and had no access to education or health facilities."

In India, however, things are not much better. An estimated 25,000 Rohingya asylum seekers are struggling to survive in the country after fleeing Myanmar. According to the UN refugee agency, 5,500 Rohingya refugees and asylum-seekers are spread across the states of Andhra Pradesh, Delhi, Jammu, Haryana, Rajasthan and Uttar Pradesh. Refugees live in Hyderabad, New Delhi, Indian Kashmir's Jammu, Jharkhand, Noida, Mewat, Saharanpur, Muzaffar Nagar, Aligarh, and Mumbai. Without adequate access to medicines, clean water, food and shelter, families living in camps in these areas depend on the charity of locals and NGOs.

Fatima Banoo, who lives in a slum along Sona Road near Gurgaon, Uttar Pradesh, says her children and the elderly members of her family had diarrhea a few weeks ago as they did not have clean drinking water. "The water sometimes has sewage mixed in it," says 54-year-old Halima Khatoon, who makes a living by collecting plastic bottles from trash. Her son suffers from kidney stones and cannot work and the INR100-150 (Rs157-235) that she earns a day is spent on medication for herself. Many refugees make less than INR4,000 (Rs6,260) a month.




The crisis the community faced came to light in April this year after hundreds of refugee families demanded their rights as per their refugee status. Many refugee families say that when they take their children to schools, the authorities deny them admission, demanding proof of identity and other documents. "Where can I get all these documents from?" asks 44-year-old Amir Hussain, a father of four. "Had we not fled our home in fear for our lives, perhaps I would have had those documents and other belongings."

The UNHCR promised to help these families by providing assistance under refugee rights. However, the parents say it did not make a difference. "It turned out to be a fiasco," says Abdur Kareem, who migrated to India in 2009. "The police was supposed to verify our identity, but there remains a trust deficit between school authorities and us. They do not want to trust us." The UNHCR says that many Rohingya children are working to support their families instead of attending school.

Many families who live in the refugee camps yearn to return to their home country. "We didn't come to India to live here forever, nor do we want that," explains 24-year-old Shiraz Ahmad, who works as a part-time labourer and earns about INR500(Rs783) a week. "Many of us lived in three-storey homes in Myanmar and we don't want to live in this miserable condition where people judge us when they see us."

The refugees have been treated with suspicion in India. In 2013, the Bangladesh government claimed militant groups were goading the Rohingya to avenge 'atrocities' perpetrated against them. A senior Indian intelligence official stated in June this year, "Given the persecution the Rohingya have faced at home, it could be cannon fodder for jihadist organisations." However, many say this claim is unfounded. "The Rohingya version of Islam is liberal, not radical," insists Ravi Hemadri, director of the Development and Justice Initiative that works with Rohingya refugees.

Unequal treatment

The Bhartiya Janta Party's manifesto states, "India shall remain a natural home for persecuted Hindus and they shall be welcome to seek refuge here." Soon after BJP took power in May 2014, India has become a safe haven for Hindus seeking asylum from Pakistan, Bangladesh and other neighbouring countries. "Hindu refugees from Pakistan and Bangladesh would be treated like any other Indian citizen," Prime Minister Narendra Modi has said.

At presently, a total of 19,000 migrants have been given visas in the Indian state of Madhya Pradesh, 11,000 in Rajasthan and 4,000 in Gujarat. Officials say there are approximately 200,000 Hindu and Sikh refugees from Pakistan, Bangladesh and Afghanistan now living in India.

The government's stance is clear: as long as the Rohingya obtain a valid visa and a refugee card, like these other refugees, there is no major problem. "The government of India is concerned about the Rohingya at a humanitarian level," said Vikas Swarup, the official spokesperson of the Indian Ministry of External Affairs. "However, as far as the issue of giving them refugee rights is concerned, you have to speak to the Ministry of Home Affairs."

According to Sameer Patil, a security analyst at the Mumbai-based foreign policy think-tank Gateway House, India determines its stance towards these refugees as per its own foreign policy interests, just as any other country. "Relations between India and Myanmar are cordial and India would not like to disrupt them by the issue of Rohingya refugees," Patil feels, adding that many of Myanmar's own Muslim neighbours such as Bangladesh have turned away the Rohingya refugees. "It would be unfair to suggest that India is the only erring country in this case," he concludes.

However, as these countries shirk their responsibilities towards the Rohingya, the refugees are left with nowhere to turn. "When you have two sons, you treat them equally, don't you?" asks 23-year-old Noor-ul-Amin, who migrated to India some three years ago and now lives at Kalindi Kunj, working as a labourer to make ends meet. "India gives refugees from Somalia, Iran, Afghanistan and Pakistan all the rights they deserve according to the UNHCR. They are treated with respect, but we are not." Noor-ul-Amin says the Indian government does not facilitate with the Rohingya's education or access to basic facilities. These refugees can only hope that the Indian government hears their cry for help, just as it does the pleas of asylum-seekers from around the world who live here.

Umer Beigh is a freelance journalist from Indian Kashmir. He studies at Nelson Mandela Center for Peace and Conflict Resolution in New Delhi.

He tweets @_umerbeigh

Published in The Express Tribune, Sunday Magazine, September 6th, 2015.

 
COMMENTS (2)
Comments are moderated and generally will be posted if they are on-topic and not abusive.
For more information, please see our Comments FAQ