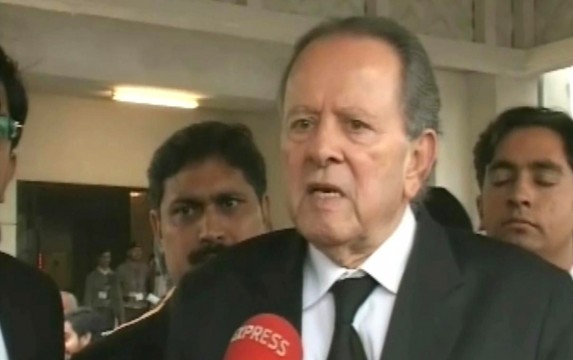 ---
KARACHI: Prominent advocate and author of the 1973 Constitution, Abdul Hafeez Pirzada, passed away in London on Tuesday.

His younger brother, Abdul Mujeeb Pirzada, confirmed that Hafeez had been hospitalised in London for over a month.

The prominent lawyer, who had last represented Pakistan Tehreek-e-Insaf (PTI) in the judicial commission probing the May 2013 elections, had recently had a surgery on his intestine. That surgery resulted in medical complications leading to organ failure and ultimately his demise.

Hafeez, 80, is survived by two sons, two daughters and a wife.

Mujeeb said that it will take them two to three days to bring his body back from England, adding that he will be buried in his ancestral graveyard in Sukkur.

According to a senior PTI leader, Pirzada had travelled to the UK on July 8 where he underwent surgery to treat gastroenteritis. He was admitted to an intensive care unit at Berkshire Hospital in Reading, where his condition was described as stable.

Earlier, it was reported that Pirzada suffered a heart attack and his condition was critical. However, his family told The Express Tribunethat he did not suffer a heart attack and was stable.

Pirzada had been hired by the PTI in April 2015 to fight its case before the special judicial commission formed by the government to probe whether the May 2013 elections had been rigged.

The commission had completed its proceedings earlier this month and its verdict on whether the general elections were rigged or not, is awaited.

Pirzada is a barrister and a senior advocate of the Supreme Court. He is a third generation barrister from Lincoln's Inn. He began practicing in the then West Pakistan High Court in 1957, joining the Chambers of Zulfikar Ali Bhutto.

In 1959, Pirzada established law chambers in Karachi and was enrolled in the Supreme Court of Pakistan in 1962. Thereafter, in 1979 he signed the roll of senior Advocates of the Supreme Court.

From 1971 to 1977 Pirzada was a Member of Parliament and remained a senior Cabinet Minister in Bhutto's government, holding several important portfolios including those of finance, law and parliamentary affairs, federal provincial coordination and education.
In 1972 he was elected as chairman of the Constitution committee of Parliament to frame a new Constitution for the country.

Subsequently, he was the author of the 1973 Constitution which was piloted by him as Minister for Parliamentary Affairs and passed by the Parliament unanimously.

He is considered a leading expert in the field of constitutional and administrative law and is also a member of the Pakistan Law Commission, a statutory body formed for the purposes of reviewing and overhauling the laws of Pakistan.

His company, Hafeez Pirzada Law Associates, is listed in the Asia Pacific Legal 500 and Chambers Global.
COMMENTS (17)
Comments are moderated and generally will be posted if they are on-topic and not abusive.
For more information, please see our Comments FAQ