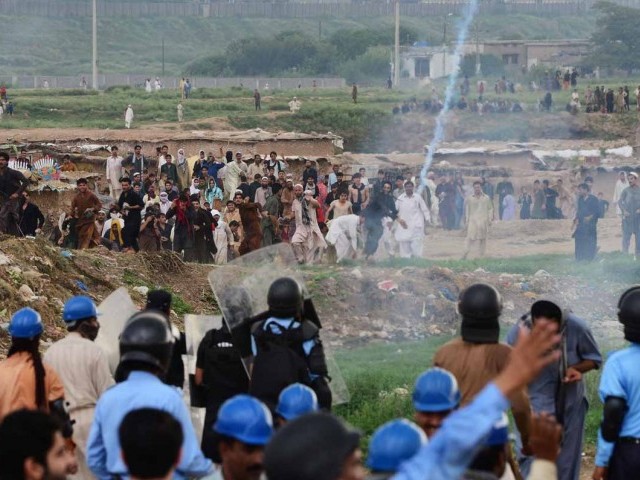 ---
ISLAMABAD: The Supreme Court stopped on Wednesday the federal government and other departments from demolishing the houses of katchi abadi in Sector I-11 of the federal capital.

"The petition filed by the slum dwellers of Sector I-11 is maintainable as they raised a matter of public importance," a three-member bench of the apex court headed by Chief Justice Nasirul Mulk observed.

Read: Katchi abadi dwellers: Evicted, cast out and refused resettlement

The petitioner, during his arguments, requested the court to declare the residents of katchi abadis of the federal capital entitled to the benefits conferred under Articles 9, 10A and 25 of the Constitution.

"It should be declared that the state is bound to provide the residents of katchi abadis shelter and other amenities as per the Constitution and the National Housing Policy 2001."

The petitioner requested the court to direct the government to stop the forcible eviction of the residents of katchi abadis.

The bench sought statements from the federation through secretary Ministry of Interior, Capital Development Authority (CDA) through its chairman, federal secretary Ministry of Law, Justice and Parliamentary Affairs, inspector general of police Islamabad, secretary Cabinet Division and chief commissioner Islamabad in the matter.

Read: I-11 katchi abadi: Over 60 slum dwellers sent on judicial remand

Meanwhile, the top court also directed the CDA and chief commissioner Islamabad to submit a report regarding the number of total katchi abadis and the ones which have been demolished so far in addition to seeking the policy for providing shelters to the citizens.

Further, the SC ordered the Islamabad police to furnish a record of each police station's daily diary (roznamcha) related to the said issue.

The court also directed all the provincial governments to provide policy for providing shelter to the citizens.

Earlier, the court was informed that of the total seven petitioners, first three are the residents of Rawalpindi and Islamabad and the workers for the Awami Workers Party. The other petitioners are the residents of the katchi abadi sector I-11 and have been directly and adversely affected by the operation.

The court was further informed that petitioners 5 and 6 had filed an application before the Islamabad High Court but it had not only ignored their concerns raised in the petitions but began active proceedings into the case.

Read: Ongoing operation : I-11 slum next in CDA's crosshairs

"The respondents, using the orders of the IHC, are currently in the process of forcefully evicting the petitioners 4 and 7, along with tens of thousands of other residents of the katchi abadis," the petitioner claimed.