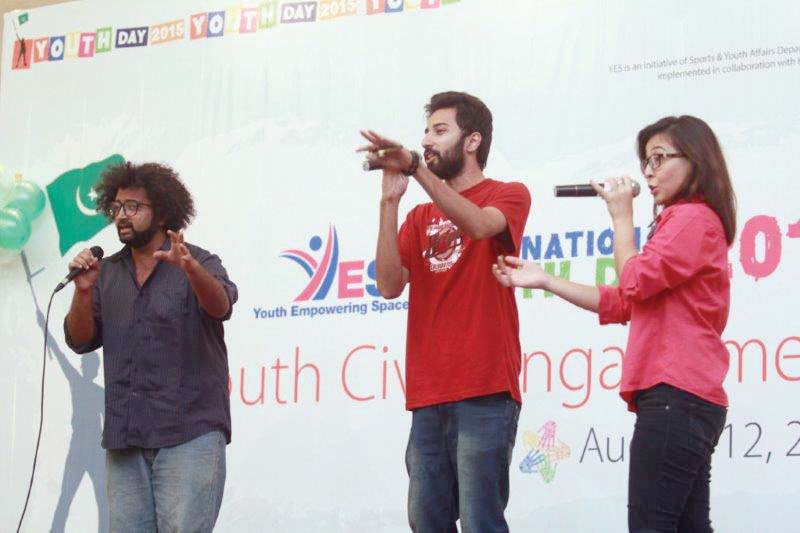 ---
KARACHI: The Youth Empowering Spaces (YES) organised a celebration on International Youth Day at Regent Plaza hotel on August 12.

YES is a collaborative project of the Sindh government and Habib University Foundation's (HUF) sports and youth affairs department. The activities at the event followed the 'youth civic engagement' theme to promote awareness about civic responsibilities and inspire youth to contribute towards the development of Pakistan. More than 250 participants attended the event. Theatre and singing performances were also held as part of the event.

While speaking at the event, Karachi commissioner Shoaib Ahmed Siddiqui stressed the need for youth's active contribution in economic and social growth of Pakistan. He encouraged the young audience to always opt for the path of hard work and honesty in their personal, professional and social life.

Read: Young Leaders: Young leaders summit from Aug 11

Swiss Consul-General Emil Wyss also attended the event and motivated the young people to keep contributing in the country's development. He talked about the potential of Pakistan's youth that Quaid-e-Azam Mohammad Ali Jinnah believed in.

Continuing on the theme of civic engagement, motivational trainer Zain Goplani discussed some basic, everyday steps that they can take to explore their capabilities and serve their country efficiently.

HUF head projects Syed Faheem Bukhari emphasised upon the importance of youth as the greatest asset of the country. He added that they will remain committed in providing personal, social and economic development opportunities to youngsters.

Read: Two Pakistanis named among 'Asia 21 Young Leaders'

The speakers appreciated the work of YES project. They believed that the aim of the project to facilitate Pakistani youth through organising seminars, workshops, discussions and debates will help them to empower themselves, taking charge of their lives and contribute pro-actively in creating a healthy society. The project is also implemented in other cities including Dadu, Khairpur and Jamshoro.

Published in The Express Tribune, August 25th, 2015. 
COMMENTS
Comments are moderated and generally will be posted if they are on-topic and not abusive.
For more information, please see our Comments FAQ