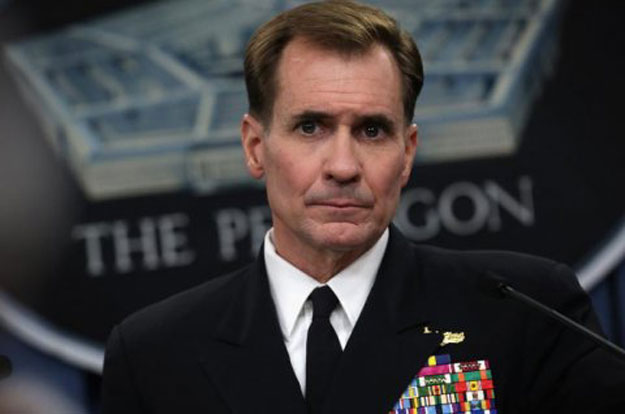 ---
The United States said on Sunday it was 'disappointed' over the cancellation of scheduled talks between the national security advisers (NSAs) of Pakistan and India.

"We are disappointed the talks will not happen this weekend and encourage India and Pakistan to resume formal dialogue soon," US State Department spokesperson John Kirby said.

Read: At 11th hour, NSA talks called off

The spokesperson continued that the 'constructive interaction' between Prime Minister Nawaz Sharif and his Indian counterpart Narendra Modi in Ufa, Russia, had been encouraging.

"We were encouraged by the constructive interaction between the leaders of India and Pakistan earlier this year at Ufa, particularly the announcement of dialogue between the countries' national security advisers," Kirby said.

The scheduled talks between the national security advisers (NSAs) of the two neighbours were called off just hours before Sartaj Aziz, the prime minister's adviser of national security and foreign affairs, was set to fly to New Delhi.

India's intransigence is to blame for the cancellation of the meeting between Aziz and his Indian counterpart Ajit Doval which was agreed upon by the prime ministers of the two countries in their meeting on the sidelines of the Shanghai Cooperation Organisation in the Russian city of Ufa last month.

Read: Pakistan-India deadlock: Foreign policy wizards expect regional peace to suffer

"Pakistan reiterates the scheduled NSA talks cannot be held on the basis of the preconditions set by India," Pakistan's Foreign Office announced Saturday night just two hours before the deadline set by India's External Affairs Minister Sushma Swaraj was set to expire, putting an end to speculation on whether the meeting scheduled for Sunday would take place.

At a news conference in New Delhi earlier in the day, Swaraj had said Aziz was welcome in the Indian capital only if Pakistan assured India by midnight that the planned NSA meeting would focus only on terrorism-related issues and that Aziz would not meet Hurriyat leaders during his stay.

"[After] carefully analysing the contents of the press conference of India's minister for external affairs… we have come to the conclusion that the proposed NSA-level talks will not serve any purpose if conducted on the basis of the conditions laid down by the minister," the Foreign Office said in a detailed statement issued in response.

"While the Indian minister accepts that in order to ensure durable peace between the two countries there is a need to discuss all outstanding issues through a sustained dialogue process, she unilaterally restricts the agenda to only two items – creating an atmosphere free from terrorism and [ensuring] tranquility along the Line of Control (LoC)," read the statement.

This article originally appeared on NDTV.
COMMENTS (20)
Comments are moderated and generally will be posted if they are on-topic and not abusive.
For more information, please see our Comments FAQ