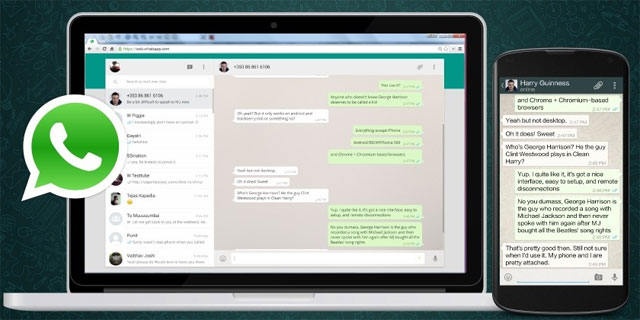 ---
Popular mobile messaging application, WhatsApp, has rolled out its web service for iPhone users, allowing them to send and receive messages not just on their phones but also on their computers.

"Our web client is simply an extension of your phone: the web browser mirrors conversations and messages from your mobile device -- this means all of your messages still live on your phone," the company said in a blog, announcing the new feature.

However, on a downside if the phone is not connected to the internet at all times, the conversation will be dropped and all of the users' messages will remain on the phone.

Read: 5 new WhatsApp features you can't miss

Further, the web option as reports suggest works on both Mac and PC and is also open to phones using Windows, Google, Blackberry as well as Nokia operating systems.




Though it took the operators about seven months, the application finally supports iOS. In order to sync your iPhone with the web client, users first must scan a QR code from WhatsApp's website using their phone. The 'web' option appears under the option of 'settings.'

Read: Apple's solution for iPhone users with small hands

Earlier in the blogpost, the company admitted that it was unable to "provide web client to our iOS users due to Apple platform limitations."

Looks like WhatsApp Web is turned on for iOS. pic.twitter.com/qGYwlqahIi

— Krishna Permi (@krishnapermi) August 19, 2015


https://twitter.com/stevensanjaya/status/633836013404590080

This article originally appeared on The Guardian