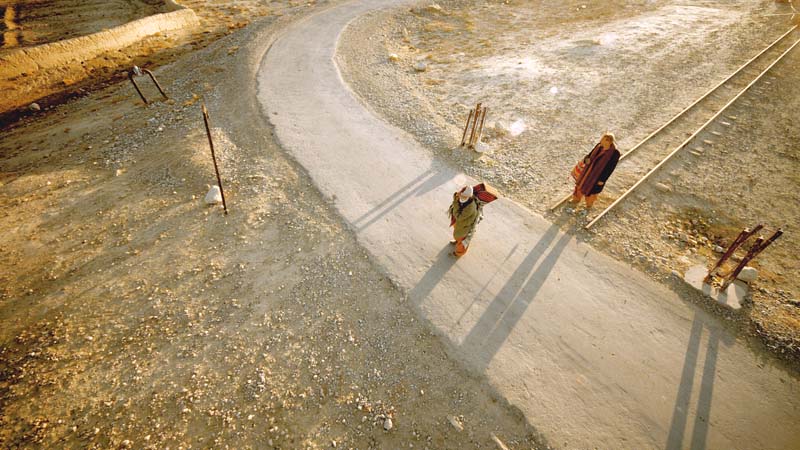 ---
On a breezy winter evening in Quetta in 1994, my father asked me to help a stranger get a rickshaw from across the road and make sure he reaches his destination. "The rickshaw driver will know where to take him," my father said. "Just make sure he gets across the road."

On that day, this short, dark-skinned man had accidentally walked into my father's office, mistaking it for his home. He was clearly intoxicated, and I was baffled about why my father would ask me to help a complete stranger. I half-pulled, half-dragged the man across the road and entrusted him to the care of the nearest rickshaw driver. As I pulled my hand from his, the man spoke. "Chahay jara ho ya jahanum ki aag, Quettay kay log kisi ka haath nahin chortay (Be it extremely cold or hellishly hot, the people of Quetta never leave you alone)."




The rickshaw puttered off into the dark, leaving me more confused than this man had been about his whereabouts. "That was Ata Shad, a great Balochi poet," my father explained when I returned. "You'll know more about him as you grow up and read what he stands for."

That was my first and last meeting with Ata Shad. He died three years later. And as I grew fond of his works over time, his parting words — more than his poetry — remained etched in my mind. There was something profound and so assuring in his characterisation of the people of Quetta. Three decades later, Ata Shad's words still stand true when you learn the story of how the biggest film to ever be made on Balochistan came to be. Only, it wasn't just the dedication shown by the people of Quetta to this project; strangers — those who had never even been to Quetta — banded together to be a part of this film. Perhaps, the loyalty of Quettay kay log is infectious.

LIGHTS

In the winter of 2013, the cast and crew of Jami's Moor arrived in Quetta to begin working on the film. An acting coach from Karachi's National Academy of Performing Arts, the director and several crew members were conducting workshops with the cast at the Balochistan Arts Council. Halfway through motion exercises to loosen up the actors, there was a deafening boom. "There couldn't have been a worse start to our journey to make this film," recalls director Jami. "There had been a blast just two houses down from where we were, at the home of Sardar Akhtar Mengal." Two hand grenades had been hurled into the courtyard of Mengal's house and the explosion blew out the windows of the Arts Council. "The entire team was running for its life," Jami says.




Jami's pessimism was not misplaced. He knew a city like Quetta comes with its fair share of trials, but now these problems were staring him in the face. He realised that the film's crew comprised of people of such varied backgrounds and ethnicities that it was not impossible for any member of the team to be targeted at any given time.The area surrounding the Arts Council was immediately cordoned off by security agencies, cutting off any physical contact between the team members trapped inside the building and those who were outside the premises. "That was the first time I thought Moor would never see the light of day," the director says. "There were such dark clouds of uncertainty that I was quite sure we had come to a full stop."

A large part of Jami's family hails from Quetta and his mother, Quratulain Bakhtiari, known in the city as a social worker, was spearheading the project as a producer. Even so, security agencies kept each member of the team on its toes by issuing multiple 'high alert' warnings. The actors from Quetta were amazed at the Karachi team's determination — even in sub-zero temperatures — and were spurred on to committing to the project fully. "We are from Quetta and are used to staying outdoors in minus-15 degrees Celsius, but the way these crew members from Karachi adapted to the conditions by wearing eight layers of clothes was quite inspiring," recalls actor Hameed Sheikh.




"What made the day of the blast even worse was that I had just stepped out of the Arts Council to go to actor Hameed Sheikh's house when the explosion took place," Jami recalls. The director remained cut off from his team even hours after the security situation was brought under control. In this time, he fielded calls from concerned parents who wanted members of the team to return home immediately. "The worries that the parents had almost made us cry, but every member of the team decided to stay on," the director says. "I don't know what they told their parents to assuage their fears, but no one left. I knew at that moment that there would be no stopping Moor."

CAMERA

Hameed Sheikh, the lead actor who plays Wahidullah Khan, the stationmaster of Khost railway station, was never meant to be a part of Moor. The veteran actor came on board the project accidently when he offered Jami his services in the film's pre-production stage, promising to help with research, reconnaissance and casting.

"I was showing Jami a couple of films made in and around Balochistan, and particularly a film called Kandahar Break," Sheikh said, speaking to The Express Tribune while en route from Islamabad to Lahore for the film's premiere. Sheikh makes a small cameo in the UK production, but his few minutes onscreen were enough for Jami to realise that the man he had been looking across the province for to embody Hamidullah Khan was sitting right in front of him.

For Sheikh, it was a bittersweet coincidence that he made his acting debut in a theatrical play staged for the first time on August 14 and is now appearing onscreen in Moor, which also opened on Independence Day. "You can call it a coincidence, but it is a very Pakistani coincidence," he muses. "My first-ever performance as an actor was in a production that dealt with the theme of loving your motherland." Moor, a Pushto word for 'mother', is also used in the context of 'motherland' in the film.




Sheikh is truly proud of Moor's reinforcement of the Pushtoon ethnic code, which he believes has been lost over time. "People living in this province have always held their mothers and their motherland in the highest regard and that attitude has filtered down to the outsiders living here," he explains. "But slowly, that code is being whittled away. Moor is just one way of keeping that code alive." Mothers, he adds, "can make or break an individual."

The production spilled over into Sheikh's personal life as well, as filming took place during a period of crisis. During preparation for his character, the actor separated from his wife. "It was very tough to juggle both things at the same time, but as I go through similar circumstances in the film, my personal life helped me take on the role even more authentically," he feels.

Once Jami had his lead man, a spree of auditions kicked off at the PTV Quetta centre. He was spoiled for choice, as more than 250 actors showed up, an unusually high number for a place like Quetta. "There is a lot of passion in artists from Quetta but there aren't enough opportunities," Sheikh explains. "Just imagine how many of the actors who showed up would quit their day jobs if there was a consistent platform for them."

One such actor is the legendary Abdul Qadir Yasir, with over 45 years of acting experience under his belt. The actor, who gives Moor's most powerful performance as Baggo Baba, moonlights in the Deputy Commissioner's office in Quetta. Yasir has a philosophical take on Quetta's acting community. "Have you ever noticed a mountain? It has a huge presence, and it shall remain in its place until a miner comes looking for the minerals buried within it," he says. "The actors of Quetta are like mountains," he pronounces. "Someone needs to come and shake them until he gets what he wants. And trust me, we won't disappoint you."

"We knew that we wanted to cast Yasir and did not need him to audition for us," says Jami. However, the actor insisted on waiting in line with every other performer who showed up for auditions, patiently waiting his turn. "He gave us a mind-blowing audition," Jami adds. "You need to understand that we are the people of Balochistan, the sons of the soil," Yasir explains. "Our narrative is intertwined with the narrative of this land." As Moor basked in critical acclaim, Yasir has also enjoyed a personal triumph: when the film wrapped, he bought his own house for the first time in his life.

ACTION

When travelling along the railway track in the Pushtoon belt of Balochistan, one notices that as the tracks begin to disappear, the surrounding villages begin to look more destitute. The livelihood of families living here depends on this lifeline — the railway tracks — and Moor deals with how the railway network has been sacrificed to a bigger road transport network through systemic political interference.

Jami gained access to these areas with the help of an NGO and was adamant on shooting. That meant that a crew of more than 150 people would live in this location, bearing conditions they had never encountered. "One of the railway stations was taken over by members of the Tehreek-e-Taliban Pakistan (TTP) and we had to seek their permission — on stationery bearing the TTP's emblem — to shoot in the area for two months," Jami says. He says that the militant group did not interfere with the actors. "My crew included girls who would walk around wearing tights, but no one did us any harm."




After the blast near the Arts Council, the team had become numb to constant warnings of security threats. However, they could not get used to one thing: the severe weather conditions. "The wind pressure was such that we could not stand in the snow for long," Jami recalls. The team learned to rehearse even more in order to reduce the number of takes they needed to get the perfect shot. "We were shooting in places that I, a native of Balochistan, had never been to in my life," Sheikh adds. One elder actor, a diabetic, collapsed during the shoot, but each member of the team persisted and kept spirits high. Even 14-year-old Hannan Sheikh, who is Hameed Sheikh's son in real life and plays his childhood in the film, says he was never despondent about the conditions they faced. "I have grown up around local artists and the thing that defines us is that the performance is never a matter of ego," he explains. "As a result, the performer never gives up. Of course it was very cold, but we had to prove a point," he quips.

The team could not have predicted how crucial a role the locals of the area would play in the making of the film. The men and women here came to own the film as their own and became a part of the crew. "It was very difficult to make arrangements for 150 people to live in the remote Muslim Baagh area, but the locals cooperated," Jami says. "Women living on the outskirts of Muslim Baagh would cook 400 delicious rotis for my crew every day and the only café in the area would cook our food," he says. "Moor is an ideal example of the saying 'where there's a will, there's a way'."

The socio-political situation in Balochistan can lead to pessimism that another such film would be made here. Many of the actors involved with the film have switched professions due to a paucity of work and many have left the province in search of employment. But Sheikh and Yasir remain hopeful. "If something good can happen with me, then it can also happen with the province," believes Yasir. Sheikh adds, "If we showcased the Pushtoon belt of Balochistan in Moor, then God willing the day is not far when we will make another huge film, this time in the Baloch-dominated belt of the province."

Moor in a minute

Wahidullah, the station master of Khost railway station, is politically pressurised to make a verbal deal to sell off custody of the station. When his son Ehsanullah Khan moves to Karachi, Wahidullah finds himself in a fix — should he sell off something that is an intrinsic part of his family's legacy?

Putting Balochistan on the film world's map

With an influx of Pakistani films released this Independence Day, local exhibitors have planned to give Moor a limited number of screenings. However, the film's producers are not deterred and are aiming for a wider international release. Moor has already been selected for the prestigious Busan International Film Festival in South Korea this year.

Rafay Mahmood is the Life & Style Editor at The Express Tribune.

He tweets @Rafay_Mahmood

Published in The Express Tribune, Sunday Magazine, August 23rd, 2015.