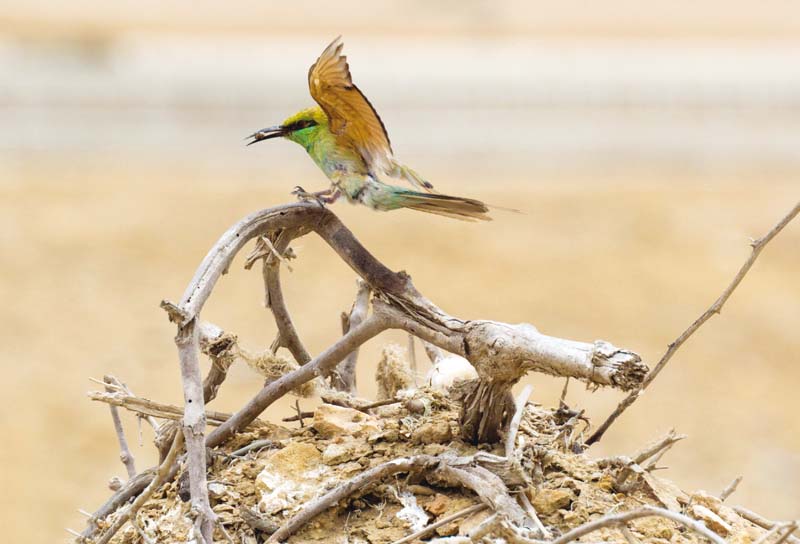 ---
KARACHI:
Despite rapidly increasing real estate development, a large part of DHA Phase VIII remains untouched by human activities, thus, becoming home to many exquisite species of local and migratory birds.


Flocks of birds frequent these areas not just in winter but also in summer. On close attention, you might discover them in the marshes around the seawater, in the bushes lining the dirt roads, and even around the heaps of trash.


Long tailed shrike

"If you are not looking for them you don't see them," said Mirza Naim Beg, a resident of Phase VIII for the last six years. A banker by profession, Beg has been into photography for the last 30 years.

Read: The best click: 'Know your environment well before you shoot it'

According to him, he noticed these exquisite birds only three months ago when he was part of a group of birdwatchers, most of them from Lahore. The group ended up in the place where Beg, for the first time, photographed several unique birds. The place was right in his backyard.

"These birds are unique because you don't expect to see them in Karachi," he said. "They seem to be from places like Thandiani, Rakaposhi and other scenic parts of Punjab, Khyber-Pakhtunkhwa and Balochistan. Every second day now, I spend an hour in bird watching."





Little egret




According to Beg, dark little robin, rock-coloured crested lark, red-backed shrike, green bee-eaters, red-wattled lapwing, yellow-wattled lapwing, black-winged stilt and egrets can be easily spotted driving around Marina Club and Creek Visa Apartments. Yellow-wattled lapwing is rarely photographed in Pakistan as these are extremely shy birds. They build decoy nests to dodge eagles, sneaks and other predators and the couples take shifts to guard their nests.

"I usually take pictures from my car using a telephoto lens," said Beg. "Sometimes even the car scares them away. The other day I discovered a mating site of yellow-wattled lapwings. It was quite a feat so I went there again the very next day but, instead of birds, I found a couple of engineers conducting a survey with their tools scattered around. The birds were gone." He calls it 'a battlefield of bulldozers'. "The signs of destruction of natural life are ominous. These birds are losing."

Beg claimed to have witnessed many bird nests getting destroyed. "Green bee-eaters, unlike many other birds, hunt only bees and flies. They make small holes in the ground to lay eggs. Once I saw a green bee-eater coming out of its hole. It was the perfect shot. The next time I went there, the ground had been levelled by a bulldozer. Their holes were gone and so were the green bee-eaters. Their eggs are probably still buried under the ground, never to hatch."

Beg fears the advent of what seems to be an inevitable scenario. "Soon the bushes and plants will be flattened out and that will be the end of their habitat," he said. "It is a one-sided invasion. A point will come when all these birds will either move to some other area or disappear altogether, never to be seen in Karachi again. That will be a great loss for the city."


Laughing dove

Umair Shahid of the World-Wide Fund for Nature - Pakistan agreed with Beg. "It is no secret that much of Karachi's vegetation and natural life has been destroyed by the constantly increasing real estate development," he said. "The only way to continue with development without harming natural life is to spare three or four times land for every area that is used for construction."

Published in The Express Tribune, August 19th, 2015.