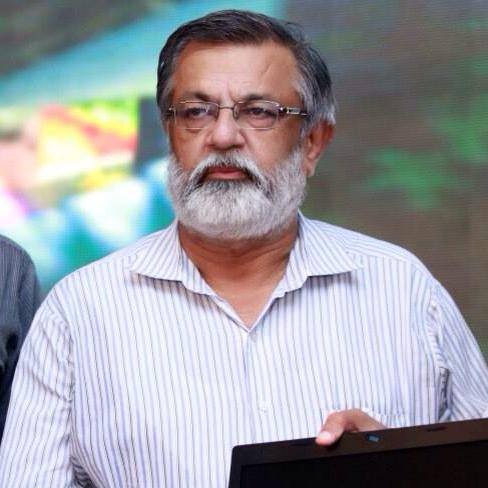 ---
KARACHI: Muttahida Qaumi Movement (MQM) leader and Member National Assembly (MNA) Rashid Godil was critically injured as his car came under attack in Bahadurabad area of Karachi on Tuesday.

Four unknown assailants on motorcycles opened fire on Godil's car when he was on his way to party headquarters, Nine Zero, for a meeting with JUI-F chief Maulana Fazlur Rahman. He suffered six bullets to his head, jaw and chest.

Fazl has been tasked by the government to convince the return of MQM lawmakers to Parliament.

"Godil's driver, Abdul Mateen, succumbed to his injuries while the MQM leader is critically injured and being operated," SSP East Javed Jiskani said. "Godil was targetted after being identified," he added.

"The incident happened at around 10:30am," he added. Godil and his driver were shifted to Liaquat National Hospital.




"9mm pistols were used in the attack and eight bullet shells were recovered from the crime scene," added the SSP.

"The attackers came from behind the car and opened fire injuring Rashid Godil critically," Abid Kaimkhani, a senior police officer told AFP.

Senior party leader Haider Abbas Rizvi said the condition of Rashid Godil was still critical.

"Doctors term the next 48 hours important for Godil as his lungs have been severely affected severely by the bullet he received," he said, adding "a team of expert doctors is looking after the MQM leader who is still on a ventilator in the ICU.

However, Sindh Health Minister Jam Mehtab said Godil was out of danger. "His condition is stable now," Mehtab said, while addressing the media outside the hospital.

Godil was unconscious and his lungs were affected, he added.

Condemning the attack, Dahar said chest specialists and neurologists were called for a complete checkup of the MQM leader.

Meanwhile, MQM spokesperson Aminul Haque said "the attack is an attempt to sabotage talks."

Read: Fazl to visit MQM headquarters over resignations

Further, MQM leader Muhammad Hussain appealed to the nation to pray for Godil.

"The incident is not only condemnable but also raises serious concerns about the efficacy of the ongoing Karachi operation," he said.

He claimed Godil was not provided any security by the government.

"It is a thought-provoking moment for those who claim that peace has been restored in Karachi," he added.

"MQM had been raising these concerns in Parliament and provincial assembly but the government did not pay any heed to our suggestions."

However, SSP East said Godil was provided security but he preferred private security guards.

"We are investigating why the police official was not present with him today," he said.




Meanwhile, MQM chief Altaf Hussain condemned the attack and expressed grief over the demise of Godil's driver. In a statement issued from his London's office, Altaf appealed to the nation to pray for Godil's recovery.


#MQM founder leader Altaf Hussain strongly condemned firing on MNA @RashidGodilMQM . appeal to public for pray pic.twitter.com/VhzmrSQLLW

— Mustafa Azizabadi (@azizabadi) August 18, 2015


Sindh Chief Minister Qaim Ali Shah ordered IG Sindh Police for a report probing the incident.

An investigation team headed by AIG Mushtaq Meher along with SSP SIU Farooq Awan, SSP East Javed Jaskani has been formed. The CIA and Counter Terrorism Department will assist the JIT whereas Rangers are separately investigating the incident.

The JUI-F also condemned the incident during his meeting with MQM leaders.


@WasayJalil. I condemn firing on Rasheed Godil. It is aimed at undermining the peace of Karachi. I pray for his quick recovery.

— Jan Achakzai / جان اچکزئی (@Jan_Achakzai) August 18, 2015


Further, MQM leader Wasay Jalil tweeted asking people to pray for Godil's recovery.


Dear All #Pakistan pls pray for our #MQM MNA Rasheed Godil Bhai who has been shot & injured in #Karachi He has been taken to local hospital

— Wasay Jalil (@WasayJalil) August 18, 2015
Requesting Sindh Government to announce head money for finding the attackers of Abdul Mateen and Rashid Godil quickly before more are hit.

— Syed Ali Raza Abidi (@abidifactor) August 18, 2015


Prime Minister Nawaz Sharif also condemned the attack on Godil and prayed for his speedy recovery.

Even Imran Khan condemned the attack, demanding the LEAS to arrest the perpetrators.


Strongly condemn the attack on MQM MNA Rasheed Godil. Praying for his life. LEAs must catch & expose the perpetrators speedily.

— Imran Khan (@ImranKhanPTI) August 18, 2015


Pakistan Tehreek-e-Insaf (PTI) leader Faisal Vawda said "the attack is not only provincial but also central government's failure."


Condemn attack on Rashid Godial of MQM ..

— Senator Faisal Vawda (@FaisalVawdaPTI) August 18, 2015


Last week, members of the MQM, which dominates politics in Karachi, offered their resignations from their seats in Parliament over what they described as a campaign of victimisation against them. The resignations have not yet been formally accepted.

Who is Rashid Godil?

Godil served as MQM's parliamentary leader in the National Assembly but was recently replaced by Farooq Sattar.

He joined the party in 2000 and became the town nazim of Bahadurabad after contesting local bodies elections.

A businessman from the Memon community, he was elected as an MNA during 2008 general elections for the first time.

MQM wants govt to provide security to its leaders

Later in the day, MQM's Rabita Committee (RC) demanded that the government provide security to the party's leaders and parliamentarians.

In a statement issued on Tuesday, the committee's members said that MQM leaders and legislators were receiving constant threats, with the attack on MNA Rasheed Godil proof that lives of MQM leaders and parliamentarians was under threat.

Meanwhile, MQM committee also demanded that the government take serious notice of arrests of its workers, after five of its office bearers and activists were detained in Orangi Town, Qasba Colony, Jackson and Korangi.

"On one hand MQM leaders are being attacked, while on the other hand law enforcement agencies are apprehending our workers instead of arresting terrorists of banned organizations," the coordination committee lamented.

MQM worker shot dead in Karachi

Meanwhile, an MQM activist was shot dead in the Orangi Town area of Karachi.

Rahim, son of Moin, was fired upon by unidentified armed men and died on the spot. The body of the deceased was later shifted to the Abbasi Shaheed Hospital for performing legal formalities.


1. CTScan skull, face & jaws: There's wound above RT cheek bone which suggests a bullet penetrated skin & muscle but didn't cause any skull,

— Dr Jehanzeb Mughal (@DrJMughal) August 18, 2015
COMMENTS (26)
Comments are moderated and generally will be posted if they are on-topic and not abusive.
For more information, please see our Comments FAQ